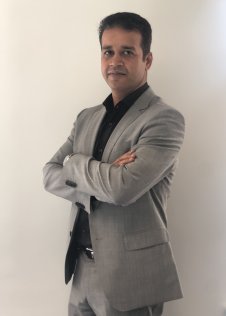 Reseller ME spoke to Umesh Tiwari, Channel Head for Middle East, Saudi, East Africa & Turkey, HP to find out how the IT leader has managed to sustain its position as a market leader in the region over such a prolonged period of time and outlines the efforts its making to address the skills gap problem in the region.
Can you outline to us in detail how important the HP Partner Roadshow event is for the company – and explain to us what the key benefits of the symposium are for HP?
The HP Partner First Roadshow event is aimed at HP channel partner salespeople. This is an EMEA wide program that offers a unique possibility to experience HP products and solutions in a series of workshop sessions designed to elevate partner knowledge. The event will give participants a chance to receive important information on products and solutions relevant to their business and customer needs. It will also enable them to engage with HP experts in an informal and interactive way.
Partner First Roadshow 2019 covered 19 countries within 40 days. HP welcomed 5,100 partners! This year HP will hold its Partner First Roadshow for the 10th time. The event in Dubai is the first in 2020 and will be a starting point for this series of roadshows across two continents.
As a key benefit, our partners can leverage the opportunity to pass certification to become HP's Silver, Gold or Platinum Partner.
HP has always had 'channel-centricity' at the very core of what it does. In your opinion, is this what ultimately differentiates HP from its rivals? How has it managed to sustain its success over such a long period of time?
Our partners are at the center of everything we do. After all, their success is the basis of ours. HP is putting a lot of emphasis on the evolving needs of its customers and partners, especially in a phase of change within the IT industry. As such, keeping up with market trends and adapting to a rapidly shifting environment while being easy to do business with is extremely important for our success.
The HP Partners are certified and promoted by HP and offer in-depth knowledge and experience, to ensure that they along with our customers, get the best possible experience in the industry. They also have the skills and expertise to offer the best IT experience – and give their businesses that competitive edge.
When working with an HP Partner, customers benefit from high-quality planning, deployment, maintenance and support, backed by HP's world-class products and solutions. Our partners also carry certifications across HP's product portfolio, while many also hold specific product and solution specialisations.
Every partner needs the right tools to succeed. That is why HP has put together an array of resources that can help market our partners business, while at the same time create new leads, and generate new sales. With marketing services and funding such as the Market Development Funds (MDF), partners can extend their reach and drive new business. And in leveraging the HP Global Partner Locator and HP Partner First Insignias, partners can create greater visibility.
James Blackman from AMD said that if companies don't embrace change then they won't survive. Is part of your job to educate your partners to use your technology in order to adapt to market changes, and to meet the ever-evolving demands of your customers?
The industry is going through a period of significant change. Business models are shifting from a product and transaction model to the development of outcomes and solutions. This is driving new expectations from customers, particularly when it comes to convenience, customisation, security and sustainability.
Not only are the changes around technology consumption pushing change onto partner business models, but the requirement for better service needs nuance and context between the customer and provider. While HP is instrumental in offering the best-suited services and solutions, it's the partners that do the most in aligning those with customer requirements.
Our partners help us to occupy leading positions in both PS and print categories. But if we do not give our partners and distributors the right knowledge, the right understanding of these services, we would lose our power. As such, we train, educate and support them in their selling process.
What do you think are the biggest challenges currently facing your partners in the channel industry?
The bigger the channel partner list grows the more competition increases. HP sets out defined policies that develop rules of engagement that are shared between all channel partners. As such, the HP Partner First Roadshow allows partners to engage with HP experts in a series of workshops aimed to increase their knowledge on HP products and solutions to help them excel and rise over the competition.
Furthermore, constant change in the state of the market as well as the fast advancement of innovative technologies is requiring partners to adapt their business strategies to match current customer needs. Riding the same wave, HP adapts new processes and tools that enhances its collaboration with channel partners. Addressing these challenges, we're making it easier to do business with HP by driving efficiency and accelerating the decision-making process between HP and the channel.
What are your primary objectives and goals for 2020?
HP has been and will continue to be very pro-active in engaging its partner and channel network by offering trainings, events and awards to enhance partners' knowledge, skill sets and certifications. As more than 90 percent of HP's business goes through channel partners, it is crucial that our partners get the support needed to help them grow.
Furthermore, HP is taking a substantial step in answering the skill gap problem facing many countries in the Middle East. Therefore, HP is partnering with Awe Academy, Munfarid and Edutech to introduce HP Innovation Lab at DTEC. HP Innovation Lab, which will be launched soon is a tech-based laboratory that offers educational programs aimed to enhance digital fluency for entrepreneurs in the region.
The lab provides users with immersive educational experiences through interactive content which is aimed towards upskilling users around core business competencies to help them excel in their respective fields.