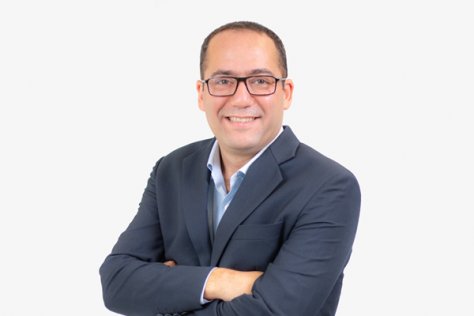 HP held its Partner First Roadshow at the Ritz-Carlton Dubai and CNME Editor Mark Forker, was on hand to find out how channel-centricity remains the core focus of the company's strategy as it looks ahead to 2020.
The Partner First Roadshow attracted hundreds of HP partners as the IT leader showcased its diverse and innovative range of products in both the PC and printing space.
The theme of the event was 'Together We Grow' which underlines HP's commitment to forge close relationships with its partners.
James Blackman, Regional Lead at AMD, delivered a keynote presentation in the opening session and highlighted the importance of embracing change in an era when technology continues to disrupt and reshape global industries.
"To survive you have to change. The world we live in is constantly evolving, so it's imperative that you've got the ability to be adaptive. You need to change in order to move forward. You've got to meet the expectations of your customers which are also evolving. If companies fail to embrace change then they won't survive," said Blackman.
Following the conclusion of the opening session, attendees were then divided into sub-groups where HP salespeople highlighted the benefits of the products on display in more detail through a series of in-depth presentations.
CNME managed to secure an exclusive interview with Fadle Saad, Regional Manager – Middle East & Turkey at HP, onsite at the event. In a brilliant and wide-ranging interview, Saad outlined HP's history of being channel-centric, the importance of the Partner First Roadshow and its approach to sustainability.
"HP is and always has been a channel-centric organisation. Our channel partners are at the core of our overall strategy. In addition to the multiple meetings and events we hold throughout the year, we decided that we wanted to host a Partner First Roadshow," said Saad.
According to the Regional Manager of HP ME & Turkey, the Partner First Roadshow provides sales certification for its salespeople, is a workshop from a business perspective and enables leaders from both HP and its partners to be able to meet to discuss market trends and opportunities.
"I really believe it sets the stage for the year ahead. We review the year gone by and we evaluate our strategy for the next 12 months. It is such an important event for us because we're able to gather all our channel partners and distributors in the region under one roof to map out our future direction. Our channel partners undoubtedly provide HP with a competitive advantage. The whole structure of the new HP organisation was specifically designed in a way which helps us to get closer to our channel partners," said Saad.
In relation to the products HP were displaying that Saad believes best represents the grand values the company stands for, he signaled out both the HP Elite Dragonfly and HP's Never Stop Printer for special attention.
"We've got a diverse range of products, but our HP Elite Dragon Fly and Never Stop Printer are two products that encapsulate and summarise our message and mission statement when it comes to sustainability. HP Elite Dragonfly, which is one of the slickest and most powerful business PCs on the market; is the world's first notebook made from recycled ocean bound plastic," said Saad.
In addition to this, he shared how HP had commissioned an Indoor Air Quality compliance study and highlighted, how HP Original Cartridges meet strict quality standards and help protect Indoor Air Quality.
This raised huge concerns over toner use in healthcare and education.
Saad said its approach to sustainability made him extremely proud to work for HP, especially when our world faces real challenges of climate change.
"I feel the message of what HP stands for in terms of sustainability is being transferred to our customers and partners and I feel that the whole ecosystem we're fostering is beginning to reap dividends. Our approach to sustainability makes me proud to work for HP. There are a lot of companies globally conveying a message on sustainability, but the furthest they take it is on slides and presentations, but at HP it's in our DNA, said Saad."
The Partner First Roadshow concluded with the 'HP Gala Dinner' awards ceremony which saw several channel organisations presented with awards that recognised their commitment towards HP.
"We're here to celebrate collaboration, cooperation and teamwork. Last year, we stood here and we said we are number one in both PC and print. This year, we are still number one in both categories. We believe that there are new opportunities and new business out there, but all our success and achievements is because of our partners," said Fadle Saad, Regional Manager ME & Turkey.
"In our transformation journey we feel that online is one of the categories that is coming up and that retail has never been better before. Today we are much more committed and more focused than ever before, and we will harness all the data security trends to win the strategy."
HP's new products, Elite Dragon Fly and Never Stop Printer, has helped the company boost the horizon and break a few trends in the market.
Saad said, "We are committed to advance on products, partnerships and sustainability. By end of 2020, we will achieve zero deforestation goals and by 2025, 30 percent of the plastic we use will be from recycled plastic."