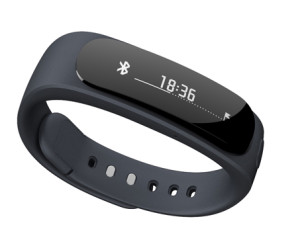 The Huawei TalkBand B1 is the hybrid 'talk and track' mobile companion to the MediaPad X1, another latest product from the company, featuring enhanced connectivity through wireless calling and daily activity tracking on-the-go.
With a Bluetooth 4.1 wireless earpiece, TalkBand B1 enables up to seven hours of continuous calling and includes a 1.4-inch flexible OLED display. It is designed to support wireless calling on both Android 2.3+ and iOS 5.0+ compatible devices, and syncs effortlessly via NFC.
It wirelessly tracks activity time and progress, including steps taken, miles covered and calories burned. It intelligently records the duration and quality of sleep, and has smart alarm and nap functions to assist rest, says Huawei.
Weighing 26g and 14.6mm thin, the device features a bendable curve design that fits perfectly around the wrist. The 9.4g earpiece sits securely within the band of TalkBand B1 and is easily removable when needed. With a 90 mAh battery, TalkBand B1 lasts six days without the need to recharge, and takes two hours to charge using the USB connector.