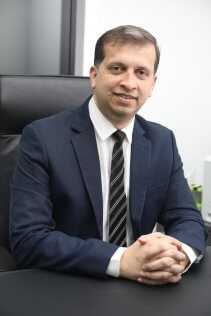 Santosh Sansare, Group General Manager, Hiperdist, elaborates on the company's deep expertise across Middle East and African markets and discusses why its robust network of global vendors makes it one of the fastest growing distributors in the region.
Headquartered in Dubai, Hiperdist overlooks the distribution arm of the CIS Group, which has presence in over 20 countries in the Middle East and Africa (MEA).
With an extensive channel network comprised of more than 2000 resellers across MEA, the company has an annual turnover of $400 million. The distributor offers diverse IT products from end-user devices to enterprise solutions, and boasts a robust vendor portfolio with global brands such as Cisco, Forcepoint, HP, HPE, HP Inc, IBM Software, Lenovo, NetApp, Oracle, Palo Alto, Pelco, Super Micro, Vertiv and VMWare among others.
"Hiperdist belongs to a group that has always been focused on the latest and the best in technology from blue chip technology brands," says Santosh Sansare, group general manager, Hiperdist.
"Our strategy from inception is backed by a long-term vision, which means we remain invested into our partners' growth from beginning to end. We have been among the first few players in the market to enter and address challenges in difficult geographies. We are continuously embracing new and upcoming technologies and are flexible enough to adopt innovative business models to serve the MEA market."
According to Sansare, the cornerstone of Hiperdist's growth strategy is centred on developing partnerships with vendors of global repute.
"We are especially keen on working with partners that have objectives that are aligned with our strategies, and for whom we can be extensions into the region," he explains
"In addition, our strategy is focused on vendors who can collaborate with us in the sphere of application-based technology. We believe this enables us to provide end-to-end solutions to our customers, helping them make a shift from product-based sales to solution-based businesses."
Over the past year, Hiperdist has added global brands such as Alibaba, Bullguard, Forcepoint, Hillstone, Microsoft Cloud and Palo Alto Networks into its vendor portfolio reinforcing its vision of investing in the technologies of tomorrow.
With IT spending in MEA expected to reach $83.7 billion in 2020, according to IDC, the region is a key focus market for Hiperdist.
"We have classified the Middle East and African markets into two clusters – structured and unstructured – and we have different strategic approaches for each region," explains Sansare.
"We have identified the Middle East as the structured market, which means that top tier technology brands have already established their presence in this region. Therefore, our approach for the Middle East entails building the much-needed awareness on our capabilities as a strong, relevant and adaptable player focused on innovative solutions in the regional distribution landscape."
Meanwhile, Sansare notes that they consider Africa as an unstructured market because each country within the continent has its own unique challenges and opportunities.
"Irrespective of the dissimilarities, we intend to grow both organically and inorganically in both regions," says Sansare. "This means that we would like to engage and penetrate more of Middle East and Africa for the brands we already carry in our portfolio. This would be achieved by extending contracts we hold and expanding product lines for the brands that we associate with."
Currently, the distributor believes that integrating security solutions with cloud-assisted applications into its portfolio as a logical next step for their digital transformation journey.
"We have developed several initiatives to accelerate the business growth of our partners. The primary focus will be to assist the channel in taking promising digital technologies to their customers. We intend to roll out enablement initiatives such as training sessions, demos, workshops, seminars and more to help inform and educate customers on the technologies within our portfolio and how to adapt to them," says Sansare.
Looking ahead, Sansare says that Hiperdist also has an aggressive plan for reaching and engaging with its channel ecosystem.
"We aim to do this through a host of initiatives centered on digital marketing automation, with each initiative customised for a particular segment targeted by brand, solution, product, region and so on," he says.
Over the next few months, we will see the distributor take part in major regional industry events including GISEC and GITEX, and participate in the training and awareness events led by its vendor partners.