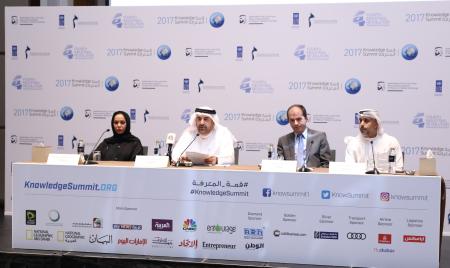 Dubai is set to hold a week-long event dedicated to sharing experiences and insight into how to tackle the broad changes of a digitalised economy.
Knowledge Week, organised by the Mohammed bin Rashid Al Maktoum Knowledge Foundation (MBRF), will run from 19th-23rd November, coinciding with the two-day summit on Tuesday and Wednesday at the Dubai World Trade Centre.
The United Nations Development Program (UNDP) will also release its Global Knowledge Index 2017, which looks at the international community's knowledge level to identify opportunities and challenges in the Middle East.
"Over the past few years, the Summit has created a regional knowledge movement, drastically developing and modernising the way we go about producing and disseminating knowledge," said MBRF's CEO Jamal bin Huwaireb.
"With the introduction of Knowledge Week, the foundation hopes to expand the scope of the Knowledge Summit, and allow school pupils and university students to benefit from the event. He added that its aim was to spark a "constructive dialogue" among all knowledge stakeholders and influencers.
From robots to 3D-printed human organs, activities throughout the week will also include the Mohammed Bin Rashid Al Maktoum Knowledge Award, which recognises progressive innovators.
The UNDP Arab Bureau's regional program coordinator Jacob Pérez said the final index includes 131 countries and was based on 133 distinct variables. He said the results gave a picture of where the world stands in confronting the changing landscape of development challenges.
"Those who lead definitely have experiences that we should learn from, and those who are less privileged have reasons that prevent their equitable advancement, which we also should learn from," he said. "Development is about us all, supporting each other and learning from the experiences of each other."