The Mohammed bin Rashid Space Centre (MBRSC) is showcasing the Emirates Mars Mission's Hope probe model for the first time at the Dubai Airshow 2017, which is running from 12th to 16th November 2017.
MBRSC will also host the International Astronautical Congress 2020 in Dubai, as well as, other programmes launched or led by the Centre under the National Space Program.
H.E. Yousuf Hamad Al Shaibani, director general, MBRSC, said, "MBRSC's participation in this edition of Dubai Airshow gives us a valuable opportunity to highlight the National Space Program, mainly one of its ambitious programmes, the Emirates Mars Mission, which is the first Arab and Muslim project to explore outer space. The Emirates Mars Mission is a project of great importance, as it further boosts the UAE's presence among the international space community and reflects the country's vision for science and technology fields development," he added.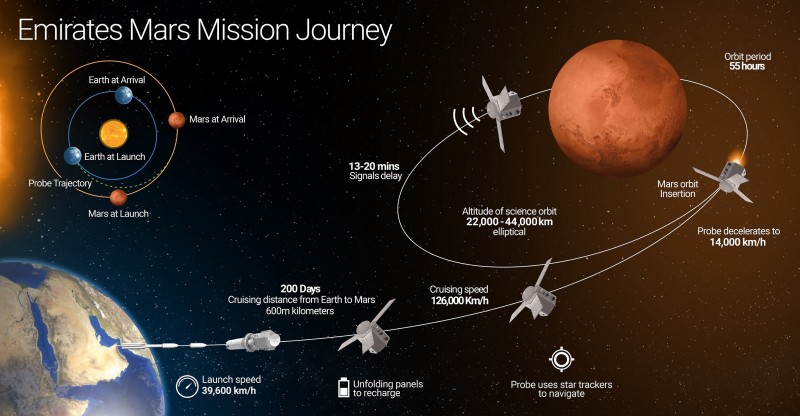 Al Shaibani pointed out that the "international space community has increasing confidence in the UAE's space sector, which appeared in its support to MBRSC's bid to host the International Astronautical Congress 2020 in Dubai".
According to Al Shaibani, the Dubai Airshow offers a great platform to highlight the big development of the space sector in the UAE, which has integrated elements and strategic plans for diversified space activities ranging from satellite manufacturing to space exploration for peaceful uses.
During the Airshow, MBRSC's engineers will participate in a panel discussion at the Space Pavilion. Omran Sharaf, Emirates Mars Mission – Hope mission Project Manager at MBRSC will share his thoughts at a panel discussion titled Global Mars Exploration, which will discuss preparations for Mars and space exploration, what will it take to put Man on Mars?, in addition to what will the Emirate Mars Mission mean for global space development?
In addition, Eng. Amel Amin, Nanosatellite Outreach Program Manager, at MBRSC will participate in a panel discussion, under the title Developing Education Systems and Inspiring a New Generation,  which will highlight the National Space Program, local skills development, national programmes and institutions, and developing a local workforce through collaboration and partnerships.
The Emirates Mars Mission – Hope mission will be launched to space mid of 2020, and will travel 600 million kilometers to reach Mars' orbit by 2021, coinciding with the UAE's 50th anniversary. The probe weighs 1.5 ton and includes 3 scientific tools which are the Emirates Exploration imager (EXI), Emirates Mars Ultraviolet Spectrometer (EMUS), and Emirates Mars Infrared Spectrometer (EMIR). The tools are designed to investigate why Mars atmosphere is losing hydrogen and oxygen gases, and what the connection is between the lower and upper atmosphere of Mars. The probe will manoeuvre into Mars' wide elliptic orbit, between 22,000 and 44,000 km away from the Martian surface, enabling the mission to provide the first global picture of how the Martian atmosphere changes throughout the day, and between seasons.