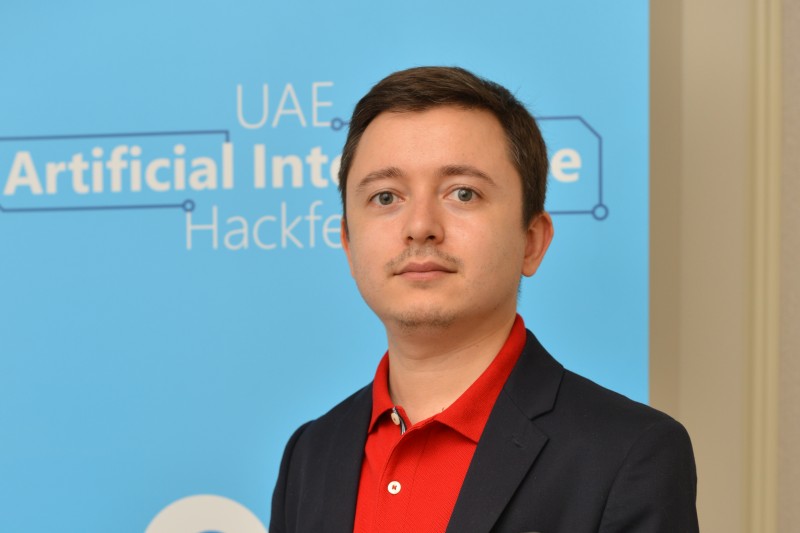 Microsoft is currently highlighting the ways that the Middle East's end-users can tackle some of the world's most pressing issues through artificial intelligence, which the firm's regional head of innovation and engineering has said is becoming available to all.
The firm's four-day Hackfest event – currently taking place at the Address Boulevard hotel in Dubai – allows Microsoft's customers to work with the firm's engineers and data scientists to develop code running on Microsoft's platforms that can solve their biggest challenges.
The Hackfest is giving IT decision makers an opportunity to experience capabilities such as machine-learning, advanced analytics, and natural-language processing – all hosted by the Microsoft Azure cloud platform.
Hackfest 2018 is designed around two tracks. The first track focuses on attendees who have presented problems that are best solved by AI and machine learning, while the other track engages with customers who would like to learn more about developing cognitive applications.
Mik Chernomordikov, head of innovation and engineering for the Middle East and Africa region, believes that technical advances have now made cloud and AI an enticing, realistic prospect for Middle East customers.
"The Fourth Industrial Revolution is set to bring in a range of huge changes, and AI will help society to be more productive, achieve more, and be a better place," Chernomordikov says.
According to Chernomordikov, AI development has four key pillars. "Agents like assistants or virtual helpers help us to make decisions faster," he says. "Applications like PowerPoint or Word are embedded with AI, while services are ready-to-use APIs – such as those for vision or emotion – for developers. Over the last decade, this has improved dramatically. The error margin is now as low as 5.9% for speech recognition, and for image recognition it is even lower; as good as a human. We can predict and prevent accidents through AI services. The democratisation of AI makes it accessible to everyone.
"The fourth pillar, which is kind of hidden, is infrastructure. To run all these algorithms, computation and deep learning, you need power. Cloud really helps to give the hyper-scale and global computing power that the world needs in order to solve problems. We've invested in hardware and software chipsets that are based on specific architectures like FGPA. That infrastructure enables the use of AI."
Chernomordikov also believes that Microsoft is now uniquely positioned to help the UAE realise its ambition of being a world leader in AI. "The UAE is looking to AI as the engine for its future growth," he says. "It's the only country with a minister of AI, and the right strategy and investments from policy-makers. Microsoft is ready to help the UAE government and use our research and frameworks to help them."
He also believes that initiatives like Hackfest are imperative if the firm and UAE enterprises are to enhance their mutual understanding. "Sharing the brain power of our top data scientists aligns with the UAE's ambition to grow," he says. "Hackfest is a unique idea – the idea of introducing new technologies to solve specific issues. On a more technical level, AI is about helping organisations to manage their data. If you have the right data and analyse it in the right way, you can use it to make better decisions and deliver more accurate AI algorithms."
A range of global organisations have benefited from Microsoft's AI and cloud services, including Dubai Electricity & Water Authority, whose chatbot runs on Azure. Global retail giant Macy's is using Dynamics CRM to improve its interaction with customers, while McDonald's is using its cognitive services to predict what customers will buy.
Chernomordikov is particularly excited by the prospect of how AI can those who are most in need. "It can now help a range of industries, including government, healthcare, education and retail to name but a few," he says. "In the classroom, it's saving teachers' time by helping to customer specific learning paths for students, which helps them to learn faster and identify gaps on courses quicker."
Last year, Microsoft launched its Seeing AI app, which helps blind users to understand their surroundings through audio descriptions, as well as its $50 million AI for Earth initiative, which will see the firm partnering with organisations that are tackling climate change.
Chernomordikov sees scope for a whole host of other good causes being enhanced by AI. "Moving forward, AI will help us to solve issues around cancer, and humanitarian problems," he says.
A recent Microsoft survey of large Gulf enterprises discovered that more than half of them (51%) were planning to migrate to the cloud. Many others expressed interest in adopting various forms of AI, including business intelligence (41%), Internet of Things (37%), automated workflow (25%), predictive analytics (21%) and robotics and machine automation (14%).
"The beauty of cloud is that compute power can now be given to customers to solve their specific needs," Chernomordikov says. "We've found better ways to use GPUs, which are a better way to use as the infrastructure for deep learning and machine learning algorithms. They're now efficient than through organisations' own traditional infrastructure. FGPA combines the flexibility of powerful hardware with programmable software. This is helping people to solve issues that were too long and expensive to solve before."
Organisations attending the Microsoft AI Hackfest include Dubai Municipality, DMCC (Dubai Multi Commodities Centre), MBC Group, The United Arab Emirates University, du – from Emirates Integrated Telecommunications Company, Al Jaber Engineering & Contracting and Masdar.