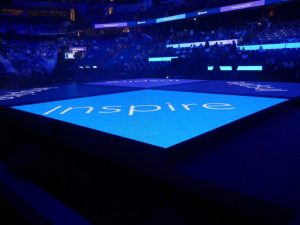 The technology giant introduces Microsoft 365 and new ISV Cloud Embed programme along with updates to the Azure stack.
Microsoft Inspire, the company's annual partner gathering, which has been rebranded from Microsoft Worldwide Partner Conference (WPC) this year, is taking place in Washington, DC, this week. Congregating more than 17,000 partners under one roof, the main message that is being communicated from the event is how the firm is placing partners at the centre of the estimated $4.5 trillion digital transformation opportunity.
According to the vendor, 'employees and culture' are crucial elements to a successful transformation, which is why both aspects are at the heart of its new offerings.
One of the biggest announcements the technology giant has made is the introduction of Microsoft 365. The new offerings draw the best across Office 365, Windows 10 and Enterprise Mobility and Security.
Judson Althoff, executive vice president, Worldwide Commercial Business organisation, Microsoft, said, "Microsoft 365 is designed to empower all companies and all workers, recognising that people are at the heart of digital transformation. It puts people at the centre, giving them flexibility to work where and how they want and giving them new ways to collaborate with others — all while protecting company data."
Partners will soon have access to two Microsoft 365 offerings – one for enterprises and the other for small to medium sized businesses.
Microsoft 365 Enterprise is the evolution of the vendor's Secure Productive Enterprise offering, and includes Office 365 Enterprise, Windows 10 Enterprise, and Enterprise Mobility and Security.
Althoff added, "It provides customers with the latest and most advanced technology for empowering employees."
Microsoft 365 Business, available in public preview beginning from 2nd August, is designed to give small-to-medium sized businesses a complete productivity and security solution, while streamlining IT management. It includes Office 365 Business Premium, security and management features for Office apps and Windows 10 devices, all managed in a centralised console for deploying and securing devices and users in one location, said the firm.
"Microsoft 365 represents a new and more cohesive approach to how Microsoft goes to market with our commercial offerings, and reflects the shift our partners and our mutual customers are making — from viewing productivity, security and device management as individual workloads, to seeking a comprehensive approach to secure productivity."
"Microsoft 365 is great for partners, too," said Althoff. "It represents a significant opportunity to increase deal size, differentiate their offerings, and grow their managed services revenue."
According to Forrester Consulting, Microsoft 365 Enterprise increases partner revenue opportunity by more than 50 percent compared to selling and deploying Office 365 alone, said the company.
The second key announcement is that Microsoft has delivered Azure Stack software to its hardware partners – Dell EMC, HPE, and Lenovo – enabling the firm to begin the certification process for their integrated systems, with the first systems to begin shipping in September. Microsoft believes this will play a critical role in enabling it to meet its goal of $20 billion cloud run rate by 2018 and further accelerate partner success.
Mike Neil, corporate vice president, Azure Infrastructure and Management, said, "Our partners are excited about the new business opportunities opened up by our 'One Azure Ecosystem' approach, which helps them extend their Azure investments to Azure Stack, to unlock new possibilities for hybrid cloud environments. "
Under business applications, the Redmond-based vendor had piloted a new Azure co-sell programme to offer comprehensive sales and marketing support for partners building solutions with Azure.
"In its first six months in market, this programme helped close more than $1 billion in annual contract value for Azure partners, created $6 billion in Azure partner pipeline opportunity and generated more than 4,500 partner deals," said Althoff.
According to the vendor, Azure is the only public cloud providing partners with this benefit through which Microsoft sales reps are paid up to 10 percent of the partner's annual contract value when they co-sell qualified Azure-based partner solutions.
To build on this momentum, the firm is now making additional investments to accelerate Azure co-sell over the next 12 months.
"We are also creating a new dedicated Channel Manager role in Microsoft that will be 100 percent focused on supporting partners go to market efforts, helping ensure their solutions reach new customers and integrating with our co-sell motion," Althoff added. "Together, these represent a quarter of a billion dollar investment that materially increases our partner-dedicated personnel, and adds to Azure co-sell incentives."
Through Microsoft's new programme – ISV Cloud Embed – partners can purchase core Dynamics 365, Power BI, Power Apps and Microsoft Flow capabilities as embeddable "building blocks" at discounts of up to 50 percent.
The firm said that in the same way that partners build their apps on Microsoft Azure today, they can now also use its business applications platform to easily add sales automation, service line and operational backend functionality to their own apps.
Microsoft's Corporate VP and Power BI head James Phillips, said, "In addition to being able to embed and build atop these new capabilities, partners also receive critical go to market benefits, based on deal volume, to support their business."
From discounts of up to 50 percent, which allow them to grow a profitable business to extending their functionality with capabilities from ISV Cloud Embed services, partners can now focus solely on innovation.
According to Althoff, in order to help partners not only innovate but also go to market faster and connect with the right customers at the right time, the company is transforming its engagement model with its channel community by bringing its partner facing roles into one organisation.
He said, "We have aligned all partner-facing roles to three primary functions: Build-with, Go-To-Market, and Sell-with. This will help simplify and optimise our engagement, drive increased collaboration and foster a culture of work that puts our partners first."