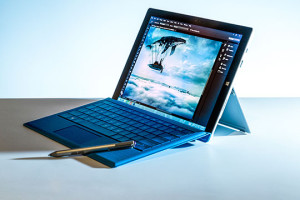 Microsoft has announced the availability of Surface Pro 3 for commercial customers in the United Arab Emirates.
Surface Pro 3 is a tablet and a laptop in a package that Microsoft says is 30 percent thinner than an 11-inch MacBook Air.
It features a 12-inch display and continuous kickstand. Microsoft have added new accessories to the Surface Pro 3, including the Surface Pro Type Cover and Surface Pen which has pressure sensitivity capabilities.
It also packs a full-size USB 3.0 port, microSD card reader and Mini DisplayPort Coupled with additional optional accessories, including a new Docking Station for Surface Pro 3 and a Surface Ethernet Adapter. It can power up to nine hours of web-browsing battering life and has a full HD screen, and Dolby Audio enhanced sound.
"So many people carry both a laptop and a tablet but really want just one device that serves all purposes," Somanna Palacanda, Business Development Director, Surface, said at the launch.  "Surface Pro 3 is the tablet that can replace your laptop — packing all the performance of a fully powered laptop into a thin, light and beautifully designed device. You'll love being able to carry a single device that enables you to carry out the activities you value the most knowing you have all the power you need."
Surface Pro 3 features 4th-generation Intel Core processor options, and click-in keyboards. Running Windows 8.1 Pro, users can run Microsoft Office and multitask with side-by-side windows.
Surface Pro 3 features a new capability where with a click of the pen, Surface launches a fresh page in OneNote.
"What sets the Surface Pro 3 apart from the likes of Dell and Sony's similar offerings is power, productivity and portability," Palacanda said. "The realism of the Surface Pen offers an unparalleled experience, and the screen, which removes light refraction, adds extra display clarity. It features over 100 customary features, and is a major part of Microsoft transforming into a devices and services company."