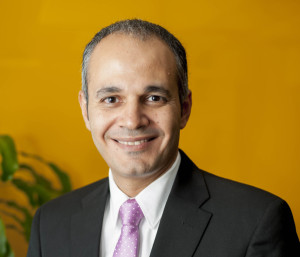 Symantec had recently announced plans to revamp its existing partner programme, in an attempt to be in sync with market demands and changes. Giving the partners till the end of the year in order to prepare themselves to comply with the new programme, the security vendor says it is a global programme that has been tweaked according to local requirements. This is important as markets within the region alone can differ in terms of size and expectations. Fady Iskander, Channel and Commercial Regional Manager, MENA, Symantec, explains how partners can benefit from the new programme.
Can you discuss the need to revamp the existing partner programme?
With the market dramatically changing, our existing partner programme needed a face-lift. Customer habits while buying solutions and products have undergone a major shift too. From the research we did, we discovered that there are 40 different ways in which the customer purchases. At Symantec, we sat down in collaborating with our partners to discuss how we can deliver our technology to our customers in a way he is ready to buy it. Therefore, the programme evolved in order to follow the buying patterns of the customers.
What are some of the changes made to the programme?
We wanted to design a programme that is a single unit in terms of framework but has various different divisions encapsulated into it when we deliver the product to the customer. This means we have various bifurcations for different things like managed service providers, systems integration, hardware and software partners, but at the end of the day it is one global programme that is unifying the global strategy of Symantec on how we would like to deliver the product today.
How is the new programme based on a win-win model?
As a company, we are in the centre of all the mega trends that are happening in the market. But in order to build a programme, we need to consider three things, what does the customer need? How partners can win and how does Symantec win?
From the research we did, customers came to us and said they want expert partners in order to deliver according to their expectations. Customers want to achieve a return on their investments. We are creating a programme where the customer will win. This is the first angle, the customer will win if partners fulfil on their expectations. And this brings us to partners. Our partners said the border we were setting for the programme entry was too low. Taking this into consideration, we created a programme where we allowed the resellers to act with us. But the serious partners would like to add value to have a higher bar of standards. They wanted us to see those standards that apply there and also hold them accountable for them. Our revamped programme works in a two-tier model, where we have a competent partner and an expert competent partner. An expert competent partner is a big differentiator in terms of ability to deliver to the market. And in return we are compensating this partner in a great deal of benefits. It is one of the most exciting programmes I have ever seen in my career in the Middle East in terms of the amount of benefits that we are passing on to the partners. This way, the partner wins as we are offering good benefits and we are raising the bar in terms of programme requirements.
And finally, how does Symantec win? If the customer wins and the partner wins then Symantec also wins because we are growing the market place. And eventually we will achieve the target to grow organically in the region.
We are transitioning into the competency based model, which we have done by surveying the market. We have looked at our portfolio offering and divided the jobs that the customer wants us to solve into 12 different competencies. While some of these competencies are traditional solutions from the company such as end point security and data protection, others are new such as mobility competency.
You mentioned about benefits for the partners, can you elaborate on this?
With the redesigned partner programme, partners can potentially earn as high as 20 percent through our Opportunity Registration Programme. This benefit is available to partners who achieve principal or expert level competency and who first identify, develop and close incremental sales opportunities on qualifying products and services. Those partners who invest in achieving expert competencies can earn up to an 8 percent rebate by reaching and exceeding new business revenue targets under the new Growth Accelerator Rebate programme. The Renewals Performance Incentive offers partners who have earned one or more expert competencies and who meet or exceed defined renewal opportunity targets, up to a two percent rebate on applicable total renewal business. These partners will also be eligible to apply to receive Development Funds, as much as five percent for qualified Platinum tier programme members, which is our highest level. Apart from monetary benefits, all partners will now have access to a more comprehensive enablement portfolio and a host of other benefits such as sales, marketing and technical benefits.
What are some of the criteria for selecting your partners?
We choose the partners on three main elements. First we look at the capability of the partner, how have they changed? We have moved from specialisation-based into competency based and we have raised the bar. We are trying to ensure that our partners are capable to design, implement and support the customers. Capability is very important for us. Commitment is the second element, we like to make sure that the partner is committed to Symantec, it is a partnership and there is no partnership without commitment. We are also building some criteria in order to measure the commitment of our partners. Finally, we want to ensure that the partner is performing for Symantec. Sometimes you have very strong capable companies who are committed but in the long run they are not successful. If the partner is successful, then Symantec will be successful. That's why we have built a growth factor into the process.  As the partner progresses, the partnership tier will change. Our partnership works on a win-win model, where eventually the end user will also win because we will have partners capable of delivering our products to the expectations of the customers.