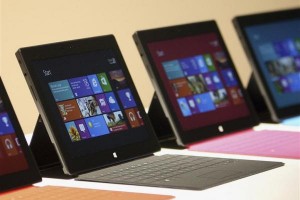 Sales of Microsoft's Surface RT tablet failed to meet expectations in the fourth quarter of 2012, selling just 1 million units, according to a UBS analyst.
The analyst, Brent Thill, had expected 2 million Surface RT tablets to sell. In a note to investors, he said that customers are choosing iPads over Surface tablets.
Part of Microsoft's problem is that the software maker sold the Surface RT only in its own stores throughout much of the fourth quarter, he said, and didn't add other stores, including the likes of Best Buy and Staples, until mid-December.
In mid-December, Microsoft claimed that it was increasing Surface RT production and called the public's reaction to the tablet positive. Microsoft has, so far, refused to reveal sales numbers for the device.
UBS' lower sales figures came a few days after Samsung revealed that it would not be releasing its own Windows RT tablet in the U.S., citing little demand and lack of public understanding of the Windows RT operating system, when compared to the full Windows 8 OS.
Thill said that there is hope for sales to workers of the full Windows 8 Surface Pro tablet, which is due to launch later this month. The new device will come in either 64 GB or 128 GB-guise.