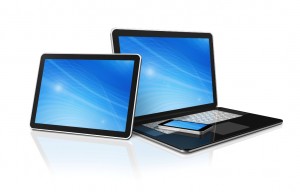 The market for personal computing devices is enduring a "structural shift", which can be seen in the continuing decline of PC sales, Gartner reported on Monday.
The research firm said that fourth quarter shipments of personal computers were nearly 5% less than in the same period last year.
"Tablets have dramatically changed the device landscape for PCs, not so much by cannibalising PC sales, but by causing PC users to shift consumption to tablets rather than replacing older PCs," said Mikako Kitagawa, principal analyst at Gartner.
"Whereas once we imagined a world in which individual users would have both a PC and a tablet as personal devices, we increasingly suspect that most individuals will shift consumption activity to a personal tablet, and perform creative and administrative tasks on a shared PC," she added.
People who have both a PC and a tablet will be the exception, not the norm, according to Kitagawa.
"Therefore, we hypothesise that buyers will not replace secondary PCs in the household, instead allowing them to age out [and then] shifting consumption to a tablet," she added.
For the past year or so, a combination of a bad economy and the dramatic growth of tablets and smartphones have hammered PC sales.
When people have enough money to buy a computer, they spent it on a tablet instead of a laptop, Kitagawa said.
Many analysts, like Dan Olds, of The Gabriel Consulting Group, disagree with Gartner's prediction, calling today's activities a passing phase and expecting that users will eventually replace aging PCs with new personal computers.
Tablets will instead become a key part of an overall computing mix, those analysts say.
"I don't think Gartner is correct when they assert that, over time, people who use both PCs and tablets will be the exception rather than the norm," said Olds.
"Tablets do a limited set of things very well, but most people would say they come up short when it comes to content creation. Researching and writing a large report, or putting together a complex presentation [would also] tax the limits of a tablet — and the user's patience."
Olds said that so-called casual computing consumers — people who want a device for Web surfing, watching videos or keeping up with social networks — can get by with just a tablet. People who need to create content, however, need powerful and fully featured devices that can handle multiple tasks simultaneously.
Patrick Moorhead, an analyst with Moor Insights andStrategy, agreed that the PC market is shifting, but also said predictions of the PC's death are very premature.
"We have been in, and continue to be in, a shift in the PC market," he said.
"Computing functions once only performed on a PC are now spread out across phones, tablets, PCs, cars and the cloud. Today, consumers and businesses still need a PC, but are deciding they don't need a new one as quickly as they once did. As PCs get touch, are thinner, lighter, and cheaper, that decision gets a lot harder," Moorhead added.
Gartner, however, is betting otherwise.
"This transformation was triggered by the availability of compelling low-cost tablets in 2012, and will continue until the installed base of PCs declines to accommodate tablets as the primary consumption device," Kitagawa said. "On the positive side for vendors, the disenfranchised PCs are those with lighter configurations, which mean that we should see an increase in PC average selling prices as users replace machines used for richer applications, rather than for consumption."
In an interview at the International CES show last week, Intel CTO Justin Rattner touted the rebirth of the personal computer.
The PC, Rattner said, is being transformed into an Internet device.
"You could not be a classic PC in the age of the smartphone and the tablet and these other Internet-connected devices," he said. "The PC is the last to be unleashed from the traditional tethers that kept it a PC and not truly an Internet device."
Rattner predicted that the development of the laptop-tablet hybrid along with all-day battery life and the development of perceptual computing will alter the way users think about PCs.
Gartner today reported that worldwide PC shipments totalled 90.3 million units in the fourth quarter of 2012, down 4.9% from the previous year.