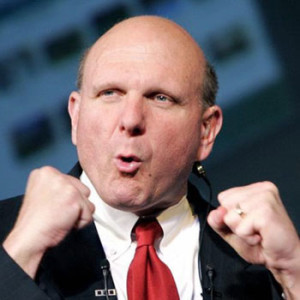 Steve Ballmer, still Microsoft CEO , is nearly $3.2 billion richer than he was a year ago, his good fortune driven by a 34.5% increase in Microsoft's share price during 2013.
Ballmer, who as of September 2013 owned more than 333 million shares of Microsoft – about 4% of all those outstanding – will be stepping aside this year in favour of a successor, who has not yet been named.
But while Ballmer is soon to be he out, he'll be far from down following the increase in his portfolio.
Ironically, some of the boost to Microsoft's share price came from Wall Street's favourable reaction to Ballmer's retirement plans. By the closing bell on the day after the firm abruptly announced his pending departure, investors had pushed the price up 10%, an instant gain on paper for Ballmer of more than $1 billion.
Ballmer has said that he doesn't plan on selling his Microsoft stock, which fits with his recent practice. Proxy filings with the U.S. Securities and Exchange Commission in 2011, 2012 and 2013 showed that his holdings – 333,252,990 shares – remained unchanged. For the years 2010 and 2009, however, Ballmer owned 408,252,990 shares, indicating that he sold 18% of his holdings between September 2010 and September 2011.
"I'm going to talk now really as an investor, because after I retire I'm just a guy who owns 4% of Microsoft," Ballmer said in September at the company's annual financial analyst conference. "And that's about 65%, 70% of what I've ever owned. I think I've sold five times in my life and I bought once, and I hold on and I treasure my Microsoft stock."
For 2013, at least, that paid Ballmer in spades.
The 34.5% increase in Microsoft's stock price last year pushed Ballmer's holdings to above the $12 billion mark for the first time since 2010. (Data: Microsoft SEC filings.)
Originally published on
Computerworld (US)
.
Click here to read the original story.
Reprinted with permission from
IDG.net
. Story copyright 2018 International Data Group. All rights reserved.