Mimecast, an email and data security company, is exhibiting its full range of products and services to showcase how it can protect customers against targeted email threats like spear-phishing and whaling attacks.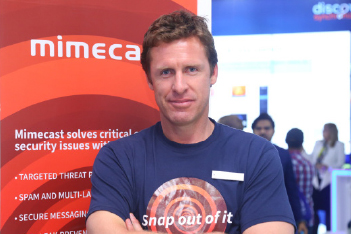 Participating at GITEX along with its distribution partner, Bulwark Technologies, Mimecast is putting the spotlight on the criticality of email security.
Brandon Bekker, Managing Director, Mimecast, Middle East and Africa, said, "We want to highlight our security suite of products. Our Targeted Threat Protection offering is a comprehensive email security protection against spear-phishing attacks with malicious links and weaponised attachments. We have introduced this to the market to help organisations reduce the risk, complexity and costs traditionally associated with protecting email."
Bekker highlighted that the increasing threats in the ICT landscape calls for organisations to re-think some of their security strategies. "I think organisations are now becoming far more in tune when it comes to protecting their systems. Five years ago most of businesses don't have CSOs or CISOs but now we can see that they are investing in talent to address their security needs," he said. "But I do think that it will be ideal for enterprises to ensure that they have trusted advisor partner to advise them on which solution or product works best for them. Because the variety of choices available in the market can be overwhelming and organisations need someone to help them better understand exactly what they need to improve whether it be the network, endpoints and so on. They should look for solutions providers that have a broad range of products so they don't have too many niche relationships."
However, Bekker warned that having multiple vendors and/or solutions providers present risks for businesses as well. "Having two or three vendors that can give you exactly the right products and a solutions provider that can bring you the consultancy you need is much more ideal than trying to deploy over 25 products that will just bring complexity to your operations. So it is imperative to focus on quality instead of quantity," he said.
Mimecast is also performing live hacks three times each day on its stand C1-20 in Hall 1 to promote its Email Security offering.
The company also hosted a 'Human Firewall' breakfast event today to shed light on the latest threat trends and showcase how users can prepare their email defences and the newest solutions available to prevent these attack.