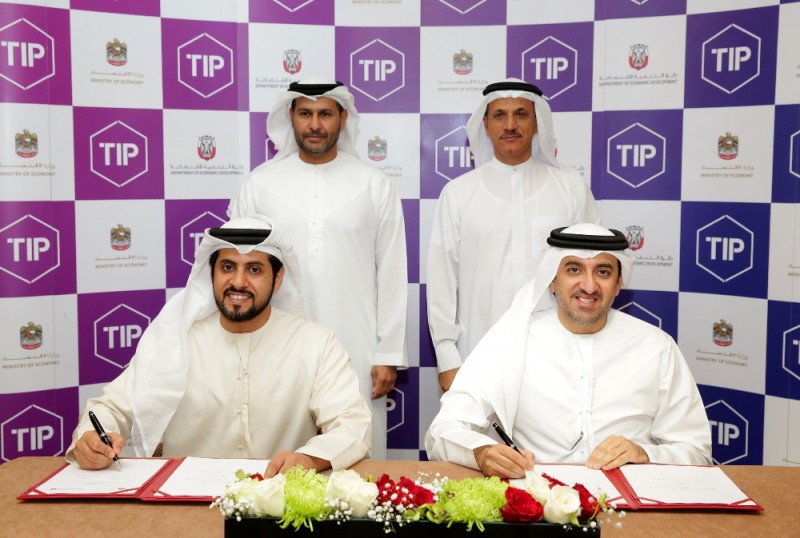 The Ministry of Economy and the Department of Economic Development Abu Dhabi have launched the TIP platform, which will host a community of "pioneers" in technology and innovation locally, regionally and globally.
 The entities will work together to build a dedicated platform which will fund emerging projects, highlight challenges and constraints facing economic sectors and government organisations in innovation and technology.
The Takamul Program, under the Department of Economic Development Abu Dhabi, will manage the TIP initiative and content, as well as work closely with strategic partners to activate and enhance contribution of both public and private sectors within TIP.
Through the Takamul program, 234 innovation patents have been registered to date, in cooperation with the Ministry of Economy and other partners.
The launch took place during a signing ceremony attended by HE Eng. Sultan bin Saeed Al Mansouri, Minister of Economy, and HE Saif Mohammed Al Hajeri, Chairman of Abu Dhabi Department of Economic Development, and was signed by HE Eng. Mohammed Ahmed bin Abdul Aziz Al Shehhi, undersecretary for Economic Affairs, and HE Khalifa Bin Salem Al-Mansouri, undersecretary of the Department of Economic Development Abu Dhabi, in the presence of a number of senior officials from both sides.
HE Al Mansouri said that the UAE has come "a long way" in providing a supportive legislative environment which promotes and develop entrepreneurship in the field of technology and innovation, in addition to having many specialised institutions which embrace such projects.
The Minister pointed out that providing platforms to train qualified staff and connecting main sectors with educational institutions and fund organisations that are interested in technology and innovation is one the main factors to enhance the UAE's vision in these fields.
Commenting on the initiative, his Excellency Saif Mohammed Al Hajeri, chairman of the Department of Economic Development Abu Dhabi said, "The Department of Economic Development Abu Dhabi is committed to supporting the country's strategic economic initiatives aimed at building an integrated economic system, and we are especially focused on leading Abu Dhabi's economic agenda to further enhance its GDP through a knowledge-based economy, with a key focus on technology and innovation as a catalyst for future economic growth."
With the objective of creating an innovators ecosystem, The TIP platform aims to provide services to support a technology and innovation-centric environment and community, linking innovators, manufactories, universities and other related organisations.
TIP will drives interactions between targeted sectors, innovators, universities, innovation centres, firms of small and medium sizes, and funding bodies in the field of technology.
The first initiative to be run by TIP will be healthcare-related, and is being launched soon in partnership with the Department of Health Abu Dhabi.