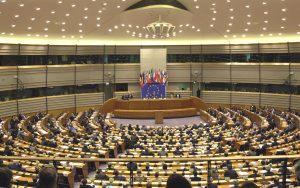 The UAE's Ministry of Economy has emphasised its commitment towards raising awareness of the UAE's private sector regarding the latest policies, legislations and administrative procedures adopted by the international community and trading partners regarding data protection.
The Ministry is now working on deepening its knowledge about the latest legislation, its provisions and requirements, and aims to reconcile its operational procedures with European authorities, in adherence with the framework of the European Union's General Data Protection Regulation (GDPR), before May 2018.
This supports the declaration set by the European Union regarding competent authorities, in addition to the European Parliament, the Council of the European Union, and the European Commission, to protect public data and enforce the GDPR, by May 2018.
The legislation outlines a non-compliance penalty of up to 4 percent of a company's annual turnover, and 20 million Euros as the maximum fine for more serious offenses, including failure to attain client consent when processing data, or the violation of privacy.
Penalties are also applied to information controllers and processors, including cloud software companies. The new legislation also outlines terms of approval for the use of data, to prevent companies from using legally illegitimate terms, and gives both parties the ability to easily withdraw if desired.
Juma Mohammed Al Kait, assistant under-secretary for Foreign Trade at the Ministry of Economy, said that the regulations issued by the EU aim to protect the data of every individual in the EU. He said that this not only impacts companies operating in European countries, but includes all institutions and companies that conduct business, trade and investment activities within EU countries, including the UAE. Al Kait emphasised that the EU is one of the UAE's most important trade partners.
Trade between the EU and the UAE generated $65.8 billion in 2016 alone. The UAE has become one of the top 10 destinations for EU exports, and is home to over 41,000 European companies, in addition to over 121,000 EU citizens.