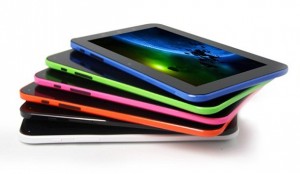 The worldwide microprocessor market will be given a boost by tablets and smartphones in 2012, amidst a fundamental shift to low-power processors used in energy-efficient devices, research firm IC Insights said this week.
Worldwide shipments of microprocessors that go into mobile devices, PCs, servers and embedded devices are expected to grow to 2.18 billion this year, up from 2.01 billion units shipped in 2012, according to the research firm.
The growth will be triggered by increased shipments of tablets and smartphones, which today mostly carry microprocessors from ARM, said Rob Lineback, Senior Market Research Analyst, IC Insights. The growing tablet and phone shipments will result in more mobile microprocessor unit shipments, Lineback said.
IC Insights is projecting tablet shipments this year to be 167 million units, growing by 43% compared to last year. Worldwide shipments of application processors in smartphones are expected to go up by 8% as handset shipments climb, Lineback said. The microprocessor shipment numbers do not include baseband processors.
More than 95% of tablets and smartphones today use ARM processors. As tablets and smartphones account for a larger percentage of the microprocessor market, a slowdown in the PC market has hurt x86 chips from Intel and Advanced Micro Devices.
"X86 is definitely not growing as fast because standard PC growth is lower than tablets and smartphones," Lineback said.
IC Insights' study does not specifically project x86 and ARM microprocessor shipments this year. The research is mainly focused on overall processor shipments with no specific emphasis on architectures, Lineback said.
But among mobile processors, it is a challenge to break out the numbers of ARM and x86 processors that may ship in the future, Lineback said. The tablet and PC categories are converging with products like convertibles, which are available in new designs such as Ultrabooks with detachable touchscreens. As the lines blur between product categories, it is a challenge to predict how the microprocessor landscape will look in the next few years, Lineback said.
ARM is doing well in mobile devices and looking to go into PCs, and Intel aims to sell Atom processors for handsets and tablets, Lineback said.
IC Insights is also projecting overall microprocessor sales this year to be $65.3 billion, growing from $58.2 billion in 2012. Handset processors will account for 26% of the total microprocessor sales, tablets will account for 5%, and PCs, servers and embedded processors will account for 69%.
Smartphone and tablet microprocessor sales are expected to grow by 28% and 50%, respectively, compared to the previous year, with more growth in coming years, according to IC Insights.
Chips for smartphones and tablets are becoming increasingly sophisticated with the integration of components like graphics processors. This could lead to higher chip prices in the coming years, but that may not affect the prices of tablets and smartphones, as fewer components will be needed to build the devices, Lineback said.