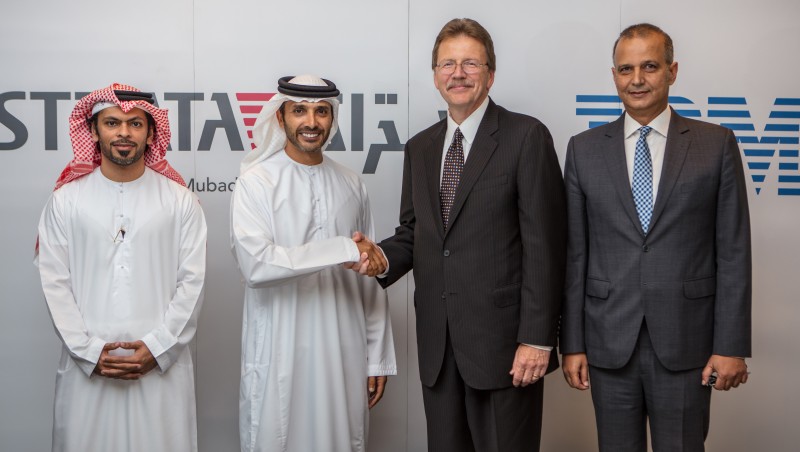 Mubadala Investment Company has announced a collaboration with IBM at the Dubai Airshow, to develop smart systems that support manufacturing facilities, predictive technology and service optimisation in the aviation sector.
Just ahead of the Airshow, Mubadala and IBM discussed the terms of the collaboration that will benefit Strata Manufacturing (Strata), the advanced composite aerostructures manufacturing facility in Al Ain, and Turbine Services & Solutions (TS&S), a leading maintenance, repair and overhaul provider for aircraft engines – two wholly owned Mubadala businesses.
"At Mubadala, we are focused on achieving a future for Abu Dhabi and the wider UAE that is advanced, progressive and sustainable. Investing in diversified sectors with partners that have transformative technologies is critical to our next phase of growth," said Badr Al-Olama, Mubadala's director of Aerospace. "Our partnership with IBM will help us go above and beyond what we think is possible today, by optimising our operations and utilising disruptive technologies across businesses that already have a successful track record in the aviation sector."
Since its launch in 2010, Strata has emerged as a tier 1 supplier of aircraft components to Airbus and Boeing. The company's existing facilities cover an area of 31,000 square metres and are home to more than 700 employees.
The company plans to expand its capabilities towards establishing a dynamic aerospace ecosystem that will revolutionise traditional aerospace manufacturing using cognitive decision making processes, enhance quality and incorporate advanced material manufacturing capabilities.
TS&S services leading original equipment manufacturers include GE, Rolls Royce and Siemens, and will soon be implementing predictive technology for maintenance, information retrieval, and the most advanced level of customer care.
"As the aviation sector continues to grow, businesses need to explore innovative technology to differentiate themselves and optimize their operations," said Takreem El-Tohamy, general manager, IBM Middle East & Africa. "Whether it's analytics, artificial intelligence or Internet of Things, these will enable improved decision making."
Cognit Technology Solutions (Cognit) is the exclusive provider for agreed IBM Watson technology in the MENA region.
Amal Al-Jabri was earlier this year appointed as Cognit's new CEO.
Mubadala also penned a deal with Honeywell this week for the manufacturing, development and maintenance, repair and overhaul of aerospace products across the Middle East.