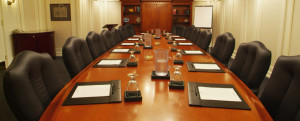 Microsoft's board of directors continues to morph as it has turned over two members, the latest move in the biggest shuffling of the board since the company went public nearly three decades ago.
The changes mean that four who were on the board when current CEO Satya Nadella was named to the post will have departed by year's end.
Dave Marquardt, 65, and Dina Dublon, 61, will not seek re-election when the shareholders meet in December, and will thus retire from the board, Microsoft said in a statement Tuesday.
Marquardt, a long-time venture capitalist, has been on the board since its founding in 1981, and helped take the company public in 1986. His company August Capital was the sole venture firm to invest in Microsoft, and at the time of Microsoft's IPO (initial public offering), the company  owned 6.2% of Microsoft's stock. Dublon, meanwhile, joined the board in 2005.
Replacing them, effective 1 October , will be Teri List-Stoll, 51, CFO of Kraft Foods Group, and Charles Scharf, 49, CEO of credit card company Visa.
"These additions help strengthen our ability to serve our shareholders and work with Satya and the company's senior leadership team on Microsoft's ongoing transformation," John Thompson, chairman of the board, said in a statement.
The departures of Marquardt and Dublon mean that Microsoft has lost four board members since March, when Stephen Luczo, CEO of drive maker Seagate, stepped down. Former CEO Steve Ballmer resigned last month after closing the purchase of the Los Angeles Clippers professional basketball team.
Of the 10 who will presumably make up the board at the end of 2014, half will be new to their positions this year. That includes Nadella, G. Mason Morfit, John Stanton, List-Stoll and Scharf.
Morfit was added to the board as part of a deal Microsoft struck with ValueAct Capital, an activist investment firm that lobbied for the ouster of Ballmer. Stanton, a veteran executive in the wireless industry, was added to the board in July.
Other changes this year have included the downgrade of co-founder Bill Gates' role. On the same day Nadella was named CEO, Gates stepped down from his chairman's spot.
Originally published on
Computerworld (US)
.
Click here to read the original story.
Reprinted with permission from
IDG.net
. Story copyright 2018 International Data Group. All rights reserved.