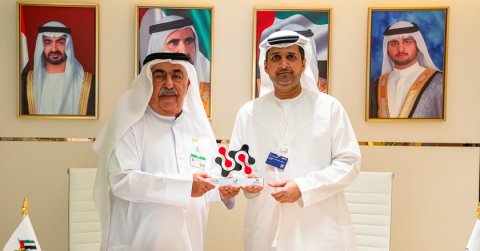 Nedaa recently signed a Memorandum of Understanding with Dubai Civil Aviation Authority, solidifying their commitment to mutually exchange critical information and data pertaining to emergency and public safety.
This strategic partnership aims to enhance collaboration, leveraging expertise, and administrative knowledge to assess and optimise technologies that will elevate the operational efficiency and services of Dubai Civil Aviation Authority.
The signing took place on the side-lines of the 18th edition of Dubai Airshow 2023 by H.E. Mansoor Bu Osaiba, Chief Executive Officer, Nedaa and H.E. Mohammed Abdullah Ahli, Director General of Dubai Civil Aviation Authority. Under the concluded MoU, both parties will collaborate to form a joint team responsible for overseeing the implementation of the memorandum's objectives and facilitating access to services, as well as developing plans and mechanisms for cooperation to achieve the desired goals. Additionally, they will cooperate in organising events, exhibitions, and joint volunteer training programs.
"We are delighted to sign this Memorandum of Understanding with Dubai Civil Aviation Authority, which aligns with our commitment to enhance collaboration with the various government institutions and entities in Dubai. This partnership reflects our shared ambitions and aspirations to elevate the quality of services provided to the residents and visitors of Dubai, while consolidating the Emirate's position and leadership on a global scale", said H.E. Mansoor Bu Osaiba.
H.E. Mansoor Bu Osaiba further emphasised the MoU's focus on establishing a reliable and efficient communications network for Dubai Civil Aviation Authority. This includes organising training courses and workshops for the teams within the Authority to familiarise them with the proper utilisation of specialised communication devices and systems provided by Nedaa. Such initiatives aim to contribute to the achievement of the Authority's goals and support its vision to keep pace with the requirements of the digital future. It also aims to enhance the performance of its operations and services in alignment with the directives of the State's wise leadership.
Through this MoU, Nedaa will provide regular updates on the latest technological advancements in its specialised communication network systems for mission- critical. Additionally, Nedaa will offer solutions and consultations regarding the quality of both external and internal coverage for public and vital facilities, and other strategic and crucial locations across the Emirate of Dubai.
Nedaa's specialised teams will collaborate with Dubai Civil Aviation Authority on future projects related to security, safety, and emergency response requirements. Moreover, Nedaa will prioritise the upgrading of its communication network system and provide round-the-clock technical support to ensure uninterrupted operations.
For his part, H.E. Mohammed Abdullah Ahli expressed his happiness and the team at Dubai Civil Aviation Authority, for the signing of the MoU with Nedaa. He emphasised the significance of such partnerships with national organisations, as they contribute to achieving shared goals aimed at enriching the experiences of residents and visitors of the Emirate of Dubai, and improve the quality and efficiency of services in line with the vision of the Government of Dubai and its future plans.
H.E. Mohammed Abdullah Ahli explained that Dubai Civil Aviation Authority is committed to staying at the forefront of technological innovation by keeping up with the latest developments in secure and specialised communications to enhance safety standards and improve emergency response times. He also highlighted that the MoU will facilitate the exchange of information and data related to emergency and public safety and will also provide a reliable and efficient communication network for the Authority.
Under the MoU, Dubai Civil Aviation Authority will utilise Nedaa's communication network as its primary telecommunications operator. Additionally, the Authority will keep Nedaa's teams informed about the latest developments and updates related to services, testing, and field experiments. In this context, Dubai Civil Aviation Authority will collaborate with Nedaa on joint projects, ensuring their preparedness for conducting studies on external coverage if necessary.
Both parties will also organize awareness workshops on the security standards, technical specifications, and smart systems specific to Dubai Civil Aviation Authority. The assigned teams from both parties will also exchange expertise, knowledge, and insights into best practices in various support areas relevant to the Authority. In this respect, an integrated communication system will be implemented and developed to facilitate communication between the two parties, through the organisation of seminars, lectures, training courses, and educational workshops.