Nedaa, a government corporation specialising in the deployment of wireless communications technologies for Dubai, has announced that it forged a strategic partnership with Nokia to establish an Innovation and Creativity Lab in Dubai.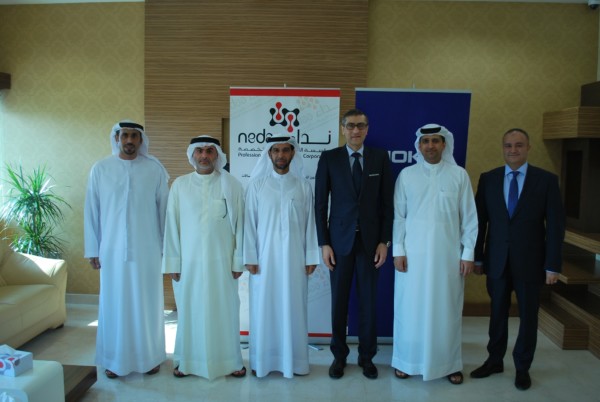 The firm highlighted that the pioneering technology incubator will support ongoing efforts to transform Dubai into a 'Smart City' under the directives of His Highness Sheikh Mohammed bin Rashid Al Maktoum, Vice-President and Prime Minister of the UAE and Ruler of Dubai.
Saeed bin Abed, CEO, Nedaa, and Rajeev Suri, President and CEO, Nokia, during an exclusive meeting, have outlined the details of the partnership and how it will impact Dubai's government agencies, the Smart Dubai project, universities, educational and healthcare institutions, and private companies involved in Smart City applications, among other key beneficiaries.
Also in attendance were Nedaa's Deputy CEO and General Manager of Esharah Etisalat Security Solutions Mansoor Bu Osaiba, Director of Commercial Affairs Abdulla Al Falasi, and Chief Technical Officer Yousif Al Ali.
As part of the partnership, Nedaa and its approved technology partner, Esharah Etisalat Security Solutions will collaborate with Nokia to accelerate the development of Smart City applications and to enrich Dubai's Internet of Things (IoT) ecosystem through the Lab. The organisaitons will focus on solutions for government and mission-critical services in the fields of education, health, utilities, and transport, including aviation and air traffic management.
Set to open by the first half of 2017 at Dubai's Internet City, the Innovation and Creativity Lab will have access to Nokia's advanced technologies. The technology solutions to be launched by the Lab will cover the domains of IoT platforms and applications, next-generation Internet protocol (IP) and wireless Connectivity, Security, and Big Data and Analytics.
"Dubai will require continuous and extensive improvements to its ICT infrastructure and capabilities to fulfill the Smart City project's objective of providing better connections and maximizing interaction and cooperation between the emirate and its residents," said bin Abed. "Our alliance with Nokia and the support of our trusted partner Esharah Etisalat Security Solutions will enable us to explore innovative and world-class tools and practices for hastening Dubai's smart transformation without compromising on quality. This is indeed a watershed moment in Dubai's efforts to harness technology to ensure the prosperity and peace of its people."
"We take great pride in the work we have done with Nedaa to enhance Dubai's communications landscape. By teaming up with one of the world's esteemed ICT authorities, Nedaa is taking the emirate several steps closer to making its 'smart' visions come true,' added Bu Osaiba. "We are very optimistic about the directions this partnership will take and the Innovation and Creativity Lab's pivotal role as a seedbed for the future of the Internet of Things and other smart elements in Dubai."