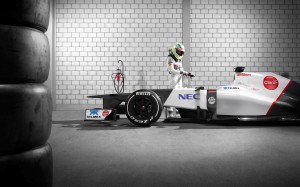 NetApp on Tuesday announced that the Sauber Formula 1 team would now use the storage and data management firm as its storage foundation.
Sauber will be using a FlexPod data centre solution, developed by Cisco and NetApp, and a NetApp MetroCluster solution for storage, NetApp said.
While the excitement of cars flying around a track at speeds of more than 320 km/h is indeed the draw for many F1 fans, there is no denying the fact that Formula 1 is a data-driven sport, NetApp said.
"A lot of people think speed and agility only apply to the cars on the track, but in our case it's imperative for our IT infrastructure as well," said Monisha Kaltenborn, CEO and Team Principal, Sauber Motorsport. "NetApp gives us an IT foundation that can keep pace with the intense nature of our sport and help us accelerate innovation within our cars to make the Sauber F1 Team the best it can be."
Sauber gathers and analyses data around the clock, taken either from the cars that they race or from wind tunnel testing and computational flowed dynamics simulations at the team's headquarters in Switzerland. The new NetApp products will help to improve the efficiency of its data.
With the FlexPod, for example, three to four megabytes – of the 30 to 40 megabytes of data produced with every car lap – can be sent to the platform in real time. This will include information about the tyres, engine, temperature and fuel usage.
The FlexPod's small form factor also allows it to be taken around the world to every race, and has helped Sauber to reduce its physical footprint and power consumption at the track by 50%.
The MetroCluster platform, meanwhile, allows engineers to quickly access the 5,200 megabytes of data that is produced every day during wind tunnel testing. The Formula 1 team's corporate systems also run on a MetroCluster solution.
"We have never once experienced a failure with our FlexPod solution or an outage with our MetroCluster solution," said Magnus Frey, Head of IT, Sauber Motorsport. "If either of these solutions went down for any period of time it would be a catastrophe for us, severely limiting our ability to safely operate the car let alone optimize it for speed.
"NetApp provides such a key component to our team's success that we look at them not only as a technology partner but as an integral member of our team."