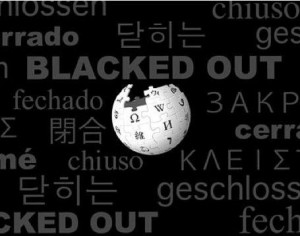 A SOPA opponent offered an alternative law for fighting piracy on the same day the Internet blackout urged U.S. Congress to put SOPA and PIPA on hold.
Rep. Darrell Issa introduced the Online Protection and Enforcement of Digital Trade Act in the U.S. House of Representatives as high-profile websites like Wikipedia went dark in protest against the contentious bills.
Issa says the new bill delivers stronger intellectual property rights for American artists and innovators while protecting the openness of the Internet.
Senator Ron Wyden has introduced the OPEN Act in the U.S. Senate. It would give oversight to the International Trade Commission (ITC) instead of the Justice Department, focuses on foreign-based websites, includes an appeals process, and would apply only to websites that "willfully" promote copyright violation. SOPA and PIPA, in contrast, would enable content owners to take down an entire website, even if just one page on it carried infringing content, and imposed sanctions after accusations – not requiring a conviction.
According to Issa's site KeepTheWebOpen, "If the ITC investigation finds that a foreign registered website is 'primarily' and 'willfully' infringing on the IP rights of a U.S. rights holder, the commission would issue a cease and desist order that would compel payment processors (like visa and paypal) and online advertising providers to cease doing business with the foreign site in question. This would cut off financial incentives for this illegal activity and deter these unfair imports from reaching the U.S. market."
OPEN has received support from technology giants such as Google, Facebook, LinkedIn, Twitter, and others, but the Motion Picture Association of America complains that the bill goes easy on Internet piracy.