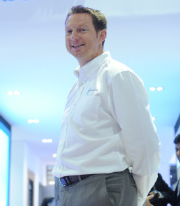 Though Dell's stand at GITEX is seeing a great deal of foot fall this week, it is nothing in comparison to the annual Dell Word Forum currently being held in Austin, Texas. Announcements from the company's hometown are flowing in today, bringing new products and services that will go far to provide end-to-end solutions for their Middle East customers.
Dell today announced the launch of the new Edge Gateway 5000 Series purpose-built for the building and factory automation sectors. Composed of an industrial-grade form factor, expanded input and output interfaces, and with wide operating temperature ranges, the Edge Gateway 5000, combined with Dell's data analytics capabilities, promises to give companies an edge computing solution alternative to today's costly, proprietary IoT offerings.
"The amount of data being created by the IoT present a challenge when it comes to actually analysing and using that data," says Anthony Sayers, Internet of Things Business Developer and Strategy. Edge analytics, carried out with the help of versatile gateways, aims to help with this data overload by determining what data needs to be acted on quickly and then filtered or stored.
In addition to the new Edge Gateway 5000 Series, Dell today also unveiled specialised IoT services offerings for healthcare and insurance companies and a series of new big data and analytics solutions and services designed to help companies quickly and securely turn the right data into insights for better decision-making.
Florian Malecki, Solution and Product Marketing Director, was also on hand and the Dell GITEX stall with new announcements from Austin. Dell announced a new, full range of security solutions that enable customers to implement a comprehensive enterprise security strategy to protect their organisation from evolving threats while strengthening business agility. New solutions include a new approach to detecting and blocking advanced persistent threats, expanded user security for cloud apps with multi-factor authentication, enhancement to the Dell Data Protection suite of data security solutions, management and policy integration across Dell next-generation firewalls, switch and wireless access point and new application security services. "These new solutions," says Malecki, "reinforce Dell's commitment to delivering a full range of security solutions designed to meet the myriad of security challenges a customer faces."
To protect customers against the increasing dangers of advanced persistent threat, Dell is offering a technology preview of the Dell SonicWALL APRT Protection Service at Dell World. Available on both firewalls and email security solutions, the service scans files of any size and holds potential malicious unknown files until a verdict can be reached. "The solution is built on multi-layered sandbox technologies that use both system emulation and virtualisation techniques to detect more threats. In fact, we have just added Cyren to our layers of protection," says Malecki.
Also new on offer from dell, the new Dell networking X-Series, Dell One Identity Cloud Access Manager 8.1, Dell Data Protection Cloud Edition 2.0, Server Encryption, End Point recovery and more. With an ever growing suite of solutions, it is easy to understand their latest hashtag: #onedell.