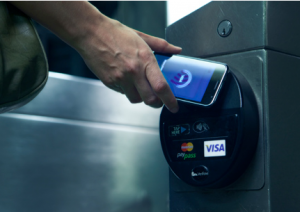 Gartner today drastically lowered its forecast for the monetary payments that near field communication technology will provide in coming years, noting the struggles of Google Wallet and Isis mobile wallet services.
Through 2017, NFC's transaction value has been reduced by 40 percent over last year's Gartner forecast "due to disappointing adoption of NFC technology in all [global] markets in 2012 and the fact that some high-profile services, such as Google Wallet and Isis are struggling to gain traction," Gartner analyst Sandy Shen said.
For 2013, NFC-related transactions will make up only 2% of total mobile payment transactions, growing to 5 percent in 2017, Gartner said. Those percentages translate into about $4.7 billion for NFC-related payments globally in 2013, increasing to about $36 billion in 2017. In the previous Gartner forecast, the 2017 value of NFC payments was expected to reach an estimated $60 billion.
NFC is a short-range wireless technology that requires a user to bring an NFC-ready phone or other device within 10 centimetres or less (less than 4 inches) to another NFC-ready device to transfer data. Data might include coupons or cash card or credit payment authorizations.
The overwhelming monetary value in mobile payments comes from money transfers, Shen said, which will be 71 percent of the $235.4 billion forecast total in 2013, while merchandise purchases with phones and tablets will make up 21 percent. Mobile merchandise purchases could be higher if the buying experience on a mobile device was made simpler and easier, Gartner said.
Money transfers are such a large part of mobile payments because such services are widely available and transaction costs are lower than with traditional bank services. By 2017, transfers will account for nearly 69 percent of total mobile payments, Shen said. Bill payments are growing and will reach 5 percent of the total value for 2017.
North America has been especially hurt by low adoption of NFC payments, Shen said. Nonetheless, transactions via mobile will jump by 53 percent in 2013 to reach $37 billion, up from $24 billion in 2012. Shen said many merchants are launching mobile apps, but they haven't developed "a winning strategy."
Google Wallet's chief, Osama Bedier, resigned in May, indicating another bad sign for NFC, analysts said at the time.
Many analysts believe slow adoption of NFC in the U.S. stems not only from a shortage of smartphones and payment terminals supporting the technology, but also heavy consumer reliance on cash and credit cards.
Yankee Group has a far different measure than Gartner for total mobile payments with NFC, forecasting $60.7 billion in global NFC transactions for all of 2013, increasing to $531 billion in 2017.
Analysts say October 2015 could be a turning point for NFC when many merchants in the U.S. are expected to upgrade point-of-sale terminals to accept EMV (Europay, MasterCard, Visa) smart card chip transactions, which will interoperate with NFC chips in phones.