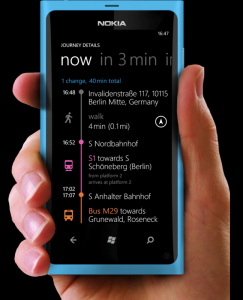 Nokia has launched a new version of its Transport application, which presents directions in a new way and counts down to when the bus or train will leave.
Navigation is one of the tools Nokia hopes will convince consumers to pick up the Lumia 820 or the Lumia 920, the company's new devices running Windows Phone 8. The Transport application, also known as Transit, is part of that.
Version 3.0 of the application, which helps users find ways to travel by public transport, has been redesigned with a more intuitive interface, Nokia wrote.
The interface has a new segmented map that provides a detailed view of each leg of the journey. Users can tap or swipe on the screen to see each one up close, according to Nokia.
Users can also plan in advance by entering the date and departure time to view their route options, and choose to see how many minutes are left until a train leaves, instead of just seeing at what time it leaves.
Transport is available in over 550 cities and 53 countries, Nokia said. The new version can be downloaded from Windows Phone Store.
On Thursday, Nokia also introduced a new beta version of Nokia Transport for Windows Phone 7, which has a similar feature set and design, and an update to Nokia Transport for Symbian.