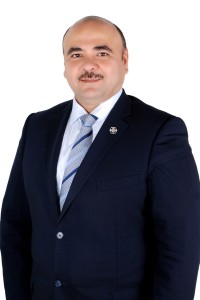 Network-related professional services are poised to undergo a significant transformation driven by the complexity and demands of today's business and technology environment. Ziad Salameh, Services Director, Cisco Services, Middle East, Turkey, Pakistan and Afghanistan discusses how this transformation will impact the way organisations consume services and outlines how the market for services opportunities is set to change in the near future.
Organisations around the globe are feeling the pressures of high customer expectations, increasing competition, lower operating budgets and a constant need for skilled people to maintain ever more complex networks and help assure services.
These issues are being exacerbated by the explosion of mobile data and IP video traffic, causing capacity bottlenecks, performance issues and at times, even outages. Given these fundamental changes, the network related professional services market is going through a massive realignment, which is likely to impact the way organisations buy services.
According to IDC's worldwide network consulting and integration services (NCIS) forecast for 2011–2015, the NCIS market reached $22 billion in 2011 and is expected to grow at a Compound Annual Growth Rate (CAGR) of 9.6% over the forecast period to $31.2 billion by 2015. Of that figure roughly 60 per cent comprises integration services activities.
These make up manual services such as implementation, migration, security implementation, test and debug and system configuration services. Through this forecast period there is likely to be a shift from manual integration activities to more strategic consulting-led services. This migration will be driven by the use of automation and intelligence acquired from the devices and networks.
This migration process is characterised by taking people-intensive processes and distance out of the services model and replacing these elements with software. Driving the transformation from simple reactive services to proactive predictive end-to-end services is achieved by leveraging vendor intellectual capital and maximising the customer intimacy provided by partners. This allows for scarce resources to be redeployed in higher-value engagements.
CXOs should understand that this new wave of services that leverage network intelligence will have a profound effect on the business and its interaction with vendors. This means that organisations will have to approach investments in equipment and services in a different light and look at the end-to-end business impact of the service experience.
In addition, partners will play an important role in the new services environment. Currently partners need to work closely with equipment vendors in order to leverage their intellectual capital and offer their services accordingly. By moving to a model that leverages intelligence embedded in the network, partner organisations can invest in growing revenue instead of focusing on cost reduction by sweating old networks.
As far as the market for network-related services is concerned, this can be categorised into network consulting and integration services, managed services and maintenance services.
Moreover, as the increasing number and variety of devices requesting access to the enterprise network continues to rise, they bring with them greater complexity in meeting different user requirements and traffic patterns. The amount of data travelling over networks will continue to grow and the ability to make sense of the ever increasing information poses serious challenges for enterprise customers.
Increased intelligence built into devices, networks, operations, and the applications residing on the networks allows services firms to collect a continuing stream of useful data about the health and activity of the devices and networks. Networking suppliers have been mining intelligence for years and can now leverage the information to help IT managers and their partners to plan effectively and leverage networking investments more strategically.
Services transformation will change the way enterprises consume services in the future
Given the transformation outlined above, organisations will undergo several changes that include a transition away from time and people-intensive service activities, thereby allowing IT departments and services organisations to leverage resources more strategically. ICT staff can then focus on issues such as increasing collaboration, which will be one of the key drivers of business growth over the next five years.
The shift in resources will then redeploy technical staff from traditional manual tasks to more consulting-based activities and will lead many services firms to re-train staff to adjust to their new job functions.
There will also be a move towards intelligent, proactive services as all indicators point to the importance of the network within the enterprise, where organisations will demand more from their suppliers. In this scenario, we see the current model (based around selling product and associated services) shifting to a new type of model, where the supplier will become more involved in addressing business issues.
Lastly, partners will also play an important role in the new services environment where they can focus on higher-margin, network-related professional services. This means that partners will have to become even closer to key vendors and a solutions approach will become the norm. In the current scenario, these transformational trends in the services landscape have begun with services firms examining the way they hire sales and technical talent to meet the growing needs of their customer base.
Conclusion
Network-related professional services are going through a massive transformation driven by the complexity of the business and technology environment. The evolution of the services industry will be disruptive to the way products and services will be purchased in the future. There will be a paradigm shift away from the traditional consumption model of 'product plus service' to a new model of 'product bundled with service'.
By moving to a model that leverages architectures and embedded intelligence within the network, organisations can focus and invest in growing revenue. As a result, enterprises and their partners will need to rethink the way they purchase networking equipment in the future. Not simply as a collection of devices that perform a task, but with a more holistic view of the network that will allow enterprises to utilise their networks as a competitive, innovative business asset.