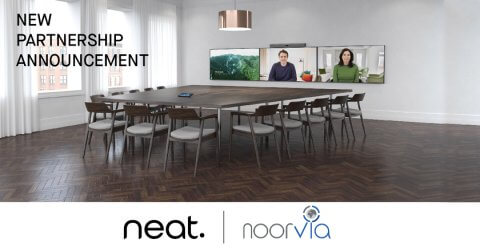 Neat designs simple and elegant video devices that make virtual meetings feel almost as natural as meeting face-to-face. Seamlessly bringing rich and meaningful experiences to people's work, interactions, and lives across any meeting space, Neat devices have crystal-clear audio and video and advanced capabilities supporting an enhanced, engaging, and safer hybrid working and learning environment. Neat was founded in Oslo, Norway, by a team of creative mavericks that, for decades, have shaped game-changing innovations for some of the world's most recognised video communications brands. For more information about Neat, visit neat.no
"Neat's Global Partner Program has enjoyed great success to date, and we are excited to expand the program to include Noorvia. We share a passion for solving customer challenges in the meeting space and delivering innovations that drive the future of video collaboration. We look forward to working closely with Noorvia to make Neat meeting spaces even more accessible to businesses of all sizes across GCC and Egypt. Together, Neat and Noorvia will serve as a force with channel partners, to address the current pain points of meeting room solutions. We are confident that Noorvia's market expertise will allow us to expand our reach in the region and introduce organisations to the best and neat way possible", says Wayne Mason, EMEA/APAC Distribution Lead at Neat.
"We all faced the challenge of virtual meetings, the personal touch was missing, enterprises are in real need of a simple solution that actually works", said Nirmal Menon, Director- Channel and Sales, of Noorvia. The portfolio from Neat is catering the needs of phone booth rooms, executive offices, hotdesking, small, medium to large conference rooms, and collaboration rooms. We invite all channel partners and end users to our innovation centre in JAFZA to experience the wonder of AI-enabled and Microsoft Teams, Zoom-certified devices of Neat.