Dubai, UAE, 19 September 2021: With Expo 2020 Dubai, the world's greatest show, just around the corner, Novartis, a leading global medicine company, will make its appearance during the opening month of Expo 2020 Dubai at the Swiss Pavilion located at the Opportunity District. As a leading global medicines company, and consistently ranked among the world's top companies investing in research and development, Novartis promises to showcase the most promising frontiers of science, the most transformative innovations in medicine, and the most significant healthcare needs.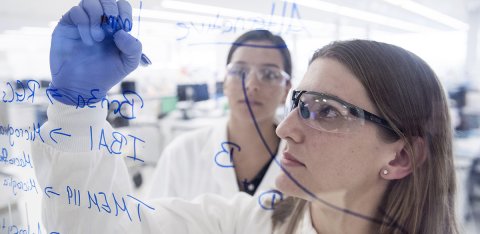 At their experiential exhibition, Novartis, who constantly strives to reimagine medicine, will bring together four vital pillars that will be presented to visiting guests, esteemed press, authorities and the mass public, highlighting Data Science and Artificial Intelligence, Cell and Gene Therapy, Building Trust with Society, and Patient Community. In their quest to find new medicines, Novartis uses innovative science and digital technologies to create transformative treatments in areas of great medical needs, and during the month of October, the Swiss company will display their four main pillars of strength.
Georg Schroeckenfuchs [President and Head MEA Cluster, Novartis] commented: "With Novartis' ongoing journey of research and development, we have partnered with the Swiss Pavilion during the first month of Expo 2020 Dubai to showcase our companies' latest and most transformative innovations in medicine. We aim to hold ourselves to the highest standards of sustainability and ethical business practices, and to build trust with society. In the long run, that's what will enable us to continue reimagining medicine, by addressing the needs of our patients, and using innovative technologies to create transformative medical treatments".
During Novartis' presence at Expo 2020 Dubai, they will present four pillars:
Data Science and Artificial Intelligence
Since the very beginning, Novartis has embarked on an aspiring transformation to become the leading medicines company powered by data science and digital technologies. Novartis has catered to integrating data science and digital technologies into drug discovery (research & development) and health delivery. Artificial Intelligence (AI), another main attribute at Novartis, is a wholesome place to innovate, experiment and scale AI-based solutions. Together with their partners, Novartis aims to transform how they build innovative medicines, engage with patients, health care providers, and healthcare systems and develop operational efficiency.
Cell & Gene Therapy
Novartis is advancing research and development of new therapies in many disease areas and building new technology platforms, including cell and gene therapies & radioligand therapies. Novartis is committed to evolving and providing access to gene therapies for patients and their families who are distraught by rare and life-threatening genetic diseases. Cell and gene therapies are built to halt a disease in its tracks or reverse its progress rather than simply manage symptoms. These are often one-time treatments that may alleviate the underlying cause of a disease, and they have the ability to potentially cure certain conditions.
Building Trust with Society
A key pillar of the Novartis corporate strategy, which defines their focus areas for managing environmental, social and corporate governance topics; Novartis takes great responsibility and an even greater opportunity to lead the world in creating a positive social change, and by embracing societal impact as a core business objective. By being part of the solution on pricing and access, tackling global health challenges, being a responsible citizen, and holding themselves to high ethical standards, Novartis follows an integrated approach across these global efforts and continues on a journey to create a culture in which these activities are deeply rooted in their daily work.
Patient Community
Novartis is consistently dedicated to working with their patient community around the world to learn new ways to improve and extend people's lives. By working together, Novartis can improve outcomes for patients and change the practice of medicine. Every day, Novartis recognises the importance of patients and caregivers, their understanding on what to expect from the company, as they commit to actively seek out and listen to insights from the patient community, underpinning their commitment to using science-based innovation to address some of society's most challenging healthcare issues.
Mohamed Ezz Eldin [President and Gulf Cluster Head, Novartis] also said: "As we are honored to be exhibiting our brand attributes in our home country pavilion, not only was Switzerland the first nation to confirm its participation at Expo 2020 Dubai, but Novartis was the first Swiss company to confirm its appearance at the Swiss Pavilion during this mega event. We are excited to help turn the spotlight on Swiss innovation and the products and services as a private-sector partner, to help promote the country's economic capacity and attractiveness as a tourist destination to the UAE − Switzerland's foremost trading partner in the Middle East. A nation of scientists, with a passion in natural science and medicine".
Wael Omran [Oncology General Manager Gulf, Novartis] also added: "The Swiss pavilion revolves around reflecting key aspects of Switzerland's culture, natural beauty and innovations, delivered through a series of interactive elements and images; the country's breathtaking landscapes serving as a backdrop to Swiss solutions for a sustainable future, showcasing Swiss technologies, innovations and scientific achievements. Novartis' exhibit will showcase our frontier technology emphasising on a positive impact, aspiring all our guests to be entertained by".
Marie-Andree Gamache [Oncology Head MEA Cluster, Novartis] commented: "With innovation being at the heart of Novartis, we will be showcasing the most promising frontiers of science. We strive to engage with our visiting guests and our patient community to give back to the society through education, knowledge and meeting significant healthcare needs. Patients are at the centre of everything we do, and by consistently gaining insights on their needs, we focus on improving and prolonging life".
Vijay Zutshi [Head of Gulf and Levant at Sandoz (a Novartis Division)] also added: "As a patient and science-focused organization, we are always prepared with business continuity plans that are so critical for a company like ours. Importantly, right now in this day and age, we are focused on the safety of our patients, their caregivers and the health care professionals providing care, and continuation of treatment protocols for our patients. As a patient-focused company whose mission is to save and improve lives, we are keeping our doors open so we can ensure that no patient is left behind in therapeutic areas".