Dom Poloniecki, Vice President & Sales Chief Operating Officer, EMEA at Nutanix, spoke to CNME Editor Mark Forker onsite at LEAP 2022 in Riyadh, and articulated what the cloud solution provider really means by its mission statement of 'cloud on your terms'.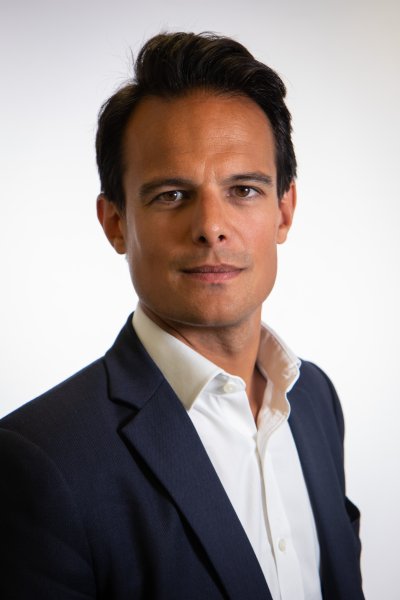 The inaugural LEAP technology conference held in Riyadh drew participation from all the major IT players from across the Middle East ecosystem, and that included major cloud player Nutanix.
Editor Mark Forker spoke to Nutanix's dynamic executive Dom Poloniecki to find out more about the company's plans for expansion in the KSA, and how it was delivering cloud autonomy for its customers.
In a candid interview, Poloniecki began the conversation by highlighting how Nutanix is 'cloud native' – and stressed that its primary objective is to remove complexity from the technology it develops.
"We are not a cloud provider per se, we are a cloud solution. We create a layer of abstraction above infrastructure and cloud. In what is an increasingly complex world, our mission has always been about how we can abstract away the complexity in the technology that we build. We were born of the cloud – some of our technical founders originated from Google, and they built the Google File System, which is a distributed web-scale architecture that in the end became the blueprint for all public cloud, and it is the same blueprint that Nutanix was built on, so architecturally we are very ready for the cloud," said Poloniecki.
Nutanix boasted an impressive stand at LEAP, which showcased and demonstrated some of the cutting-edge products and solutions that they have within their diverse product portfolio. However, what caught the eye was the mission statement of the company which claims that they deliver 'cloud on your terms', but what exactly does that mean?
"Cloud on your terms essentially means that we deliver a consistent cloud experience, wherever you deploy applications or workloads. What our customers want from us, and basically what customers want from all vendors in the market is the ability to abstract away the complexity, give them choice, and full portability and compatibility. We have seen over the last couple of years since the onset of the pandemic that everything changes so fast, so you need flexibility and the ability to provide portability, because what you need today might be very different to what you need tomorrow," said Poloniecki.
The Middle East is one of the fastest growing markets in the world when it comes to investment in cloud services, and according to Poloniecki the absence of legacy-heavy architecture and infrastructure represents huge opportunities for new greenfield projects.
There has been explosive growth in this region in terms of the demand for cloud services, and I am seeing a lot more adoption of containerisation from the meetings I've had during my time in KSA and across the Middle East. The reason for this quite simply is that there is much less legacy and technical debt here than in mainland Europe. If you go into a very large heritage organisation that has been in the datacenter for 100 years, then application remediation, and refracturing for a containerised world is hard, hard work and can be very costly. In KSA you have got much more greenfield opportunity which ultimately makes it much easier to adopt these new technologies. The tech-savvy Saudi youth population eager for the latest technologies is also driving digitization in the Kingdom," said Poloniecki.
He also revealed how Nutanix saw a 177% growth in KSA for their last quarter, on what is already a large revenue base for Nutanix. When asked to outline what he believed differentiates Nutanix from other market rivals, he credited their success to its technology and customer experience.
"All enterprises claim they have great technology, but we really do because we focus on building intuitive solutions, and that has helped us greatly across the region. However, in my opinion what really matters is customer experience. What does it feel like after the sale? There are two things that really set us apart from many of our market competition, first is that the technology is incredibly intuitive and easy to use. Our customers appreciate the simplicity of the technology," said Poloniecki.
Poloniecki disclosed that the second factor that is instrumental in their success is the support they provide to their customers. Nutanix has completely transformed the support experience, and Poloniecki acknowledged that support is something that traditionally the industry has not done well.
"The support experience we provide is exceptional and we have completely reinvented the way we do support. All our support staff are engineers, so they understand the code and the platform, and they are also full-time employees, so it's not an outsourced experience. Our support team are engineers who know what they are doing. The way we measure their KPIs is not on how quickly they close a call, or how many calls they have had during the day, it is all based on the customer feedback. Every customer at the end is surveyed, and that survey score is the measurement of success for the individual support engineer. Let's be frank the industry has not been very good at support, and it needed some re-engineering, and we are very proud we have done that. In summary, we believe that our great technology, experience, and support is what really sets us apart and differentiates us from other vendors," said Poloniecki.
Nutanix have recently entered an exciting new partnership with open-source leaders Red Hat, and Poloniecki explained in detail how that collaboration is going to generate huge value for their customers.
"We are very excited by the partnership. For me personally what excites me the most is that this collaboration has come from customer demand. The customers have been pushing us and Red Hat and have been telling us you guys need to become partners, so when the market is pulling you, then you know it makes sense. The other thing that is exciting for us is that for the first time in 10 years Red Hat has certified a new hypervisor for RHEL and for their open-shift platform. Red Hat have stated that Nutanix is a preferred HCI platform for Red Hat open-shift, and that is reciprocal because we have stated that they are our preferred platform for cloud native solutions. It really is the coming together of the best-of-breed hybrid-cloud infrastructure and the best-of-breed cloud native solutions, and it is what the customers have been asking for," said Poloniecki.
Nutanix have also recently commissioned their ECI report, which once again indicated that a multi-cloud approach is the preferred cloud model in the industry. However, it's become clear that many enterprises across the region are struggling to come to terms with the demands of cloud transformation.
Poloniecki outlined what he believed were the biggest barriers and challenges facing many businesses across the Middle East when it came to the cloud.
"It's the 4th year we have conducted the ECI study, and essentially what we do is interview several IT decision-makers around the world, and for this report we surveyed 1400 IT leaders globally. We asked them open questions around cloud transformation, the challenges and opportunities that come with it, but specifically within this index we asked them about the impact of the COVID-19 pandemic. In relation to the challenges in this region, there are some things that jump off the page, and one of those is the regulatory issues around which providers can operate in the region, and which customers want to put their data into a public cloud. We are living whether we like it or not in a multi-cloud world, now that could mean private cloud, or a public cloud, or multiple public clouds, so it's a combination, but that represents security issues. 53% of business leaders surveyed said they had a very strong security posture, whereas 42% of their respective IT leaders said they had a strong security posture, so what that means is there is a big gap in terms of perception between the C-suite feeling that they are ready and secure, and the IT reality that we are not, and this was one of the most interesting aspects that emerged from the report for me," said Poloniecki. The Nutanix platform is built with security at the core and we protect our customers' data with immutable storage – meaning you will always have a way to recover the data in the unlikely event you have a breach.