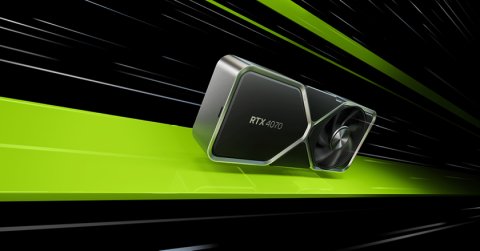 NVIDIA today announced the release of the GeForce RTX 4070, its latest addition to the RTX 40 series line-up. Starting at AED 2,579, the RTX 4070 joins the RTX 4090, 4080, and 4070Ti GPUs in bringing the latest NVIDIA technologies to gamers and creators worldwide.
The GeForce RTX 4070 is the ideal GPU for 1440p resolution gaming and allows streamers and content creators to create even faster with RTX acceleration and AI tools. The GeForce RTX 4070 benefits from the NVIDIA RTX platform, including NVIDIA DLSS 3, NVIDIA Reflex, NVIDIA Game Ready Drivers, RTX Video Super Resolution, and more. The GeForce RTX 4070 with DLSS 3 is on average 1.7x faster compared to last generation's RTX 3070Ti with DLSS 2. It is also 20% faster on average in traditional games while reducing average gaming power consumption by 23%.
GeForce RTX 4070 graphics cards will be available from April 13th in the NVIDIA in-house Founders Edition design from select retailers, as well as custom boards, including stock-clocked and factory-overclocked models, from top add-in card providers such as ASUS, Colorful, Gainward, GALAX, GIGABYTE, INNO3D, KFA2, MSI, Palit, PNY and ZOTAC. GeForce RTX 4070 graphics cards will also be available in desktops from top system builders worldwide. For a limited time, gamers that purchase eligible GeForce RTX 4090, 4080, 4070Ti and 4070 graphics cards and desktop PCs from now until May 8th 2023, will receive the Overwatch 2 Ultimate Battle Pass plus an additional 1,000 Overwatch 2 Coins, a $40 value.
NVIDIA Remix Runtime remasters classic DirectX games
NVIDIA also announced that a major component of its RTX Remix modding platform is now available as open-source to enthusiasts. RTX Remix, part of the NVIDIA Studio suite of apps, is composed of two core components that work together to enable modders to remaster classic PC games: the RTX Remix creator toolkit, and a custom RTX Remix runtime. While RTX Remix creator toolkit Early Access is coming soon, the RTX Remix runtime is available now for download from GitHub.
The RTX Remix runtime captures a game scene, and replaces assets at playback while injecting RTX technology, such as path tracing, DLSS 3 and Reflex, into the game. Modding is all about community, and providing an open-source RTX Remix runtime will help empower mod developers to expand Remix compatibility to even more classic PC games, alongside broadening the types of mods that can be made when the RTX Remix creator toolkit is released.
Additionally, NVIDIA also announced that the highly-anticipated game Counter-Strike 2 will have support for NVIDIA Reflex, to ensure that latency is at an absolute minimum in this competitive shooter. Counter-Strike 2 will join a growing list of games that benefit from NVIDIA Reflex, including top titles such as Apex Legends, Call of Duty: Warzone 2, Destiny 2, Escape from Tarkov, Fortnite, Overwatch 2, Tom Clancy's Rainbow Six Siege and Valorant.