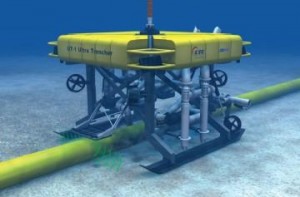 Underwater robotic vehicle firm Soil Machine Dynamics (SMD) is deploying a new ERP system to improve project management in the oil, gas and telecoms markets it serves.
SMD hope to use the IFS Applications ERP system to achieve improved operational efficiency and project management by integrating processes across different locations, it said.
Whilst the value has not been disclosed, it is the single largest IT project in the history of SMD, who provide subsea remotely operated vehicle systems for undersea trenching and cable burial for telecoms systems. The firm's systems are also used for subsea mining, marine renewable energy and nuclear decommissioning.
"SMD currently has a number of disparate IT systems used for managing different aspects of the business," said Richard Lowery, finance director at SMD.
"As the business has grown significantly over the past few years we realised the need for an integrated end-to-end IT solution that would provide a platform to support growth and improve efficiency across the entire company," he added.
IFS Applications 7.5 will be used to handle the design, engineering and manufacturing of SMD's systems, and the management of the projects for a wide range of customers.
As part of the contract SMD will also receive product lifecycle management (PLM) functionality via IFS Applications, ensuring that the company can keep track of each system.
SMD's development comes after global mining firm Nyrstar, who operates smelters and mines on five continents, announced it was implementing SAP ERP software to replace 10 legacy systems.