Vibhu Kapoor, RVP for MEAI at Epicor, spoke to CNME Editor Mark Forker, about the processes that businesses need to follow to ensure they are 'ready' for ERP implementation, why manufacturers need to shift their operating models to the cloud, the capabilities of Epicor's ERP offering – and the significance of their new datacentre in the UAE.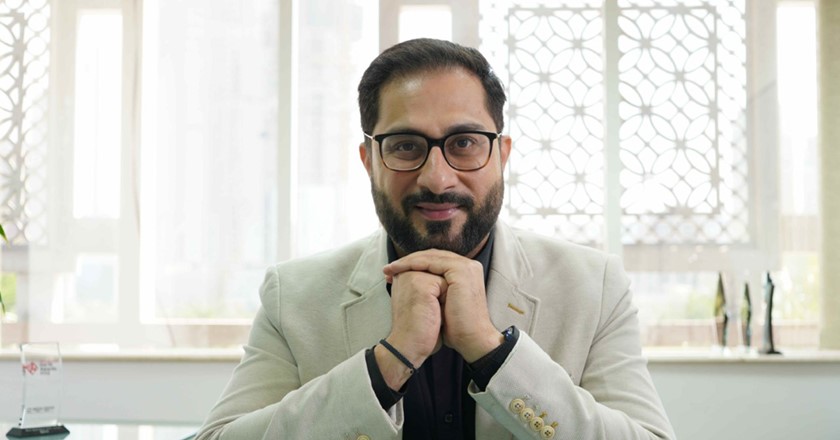 Vibhu Kapoor has been a prominent figure in the ERP industry for over 20 years, and he has had a front-row seat for the seismic changes that have occurred within the IT ecosystem across the Middle East region during the last two decades.  
In a candid discussion with CNME, Kapoor provided expert commentary and great insights into some of the challenges facing businesses looking to implement cloud ERP, and why many companies, especially manufacturers need to leverage the power of cloud technology to adapt to the changing market dynamics.  
He began the conversation by highlighting the importance of developing and maintaining partnerships.  
"Every customer has the right to choose the product, or the implementation provider that they believe are the right fit for their business model. However, from my 20 years of experience, I firmly believe that good partnerships deliver business confidence. When a customer is looking for an ERP, the relationship between a buyer and a seller should quickly manifest itself into a partnership, and this partnership should go all the way to the goal line stage," said Kapoor.  
In terms of some of the challenges that businesses encounter when seeking to adopt cloud ERP, a prevalent issue for many has been the topic of customer readiness.  
"Customer readiness is extremely important. We have seen countless examples of customers thinking they are ready, but it becomes evident very quickly that they are not. So, even before they start the evaluation cycle of procuring an ERP, the change management internally should be done by the leadership team, who inform everyone that they are looking to evaluate a new ERP. It's important to note, change management is a continuous process, and it has to be ongoing from the moment they purchase the ERP, and when the implementation starts. When the implementation starts, they then should very quickly adopt a partnership model with the provider," said Kapoor.  
Kapoor added that obviously picking the right product is absolutely critical to the success of the implementation.  
He revealed that there are four key components that businesses need to focus on to ensure they achieve success with their ERP implementation.  
"Customers need to choose the right product that is fit for their industry vertical, and if they are following these steps then they significantly reduce any pitfalls that they might encounter. In terms of what they need to do to select the right solution, there are four key things they need to focus on, and that is; look for the business specific features that they need, look for the industry specific features that they need, look at the long-term viability of the solution, and finally, interoperability," said Kapoor.  
When asked what are the factors that determine when a business is 'ready' to adopt a cloud ERP, again Kapoor focused on the change management process.  
"I think in terms of assessing customer readiness, it really is across multiple levels. The first stage is at the management and ownership level. When a company feels like they need an ERP, it's coming from the management at the top, but the change management that I talked about is required from the ground level, where they are traditionally used to doing things their own way, and they can be very resistant to change. The second stage is related to those who execute the objectives of the business on a daily basis. For example, CFOs and finance managers understand the challenges faced by staff doing daily entries, and are cognisant of the fact that they need a proper system, but the management in many cases are not ready to invest," said Kapoor.  
Kapoor disclosed the second stage of customer readiness is a tougher one for companies like Epicor to overcome and solve.  
"The second stage is harder to overcome for Epicor and other vendors, because it is probably not a qualified opportunity to go after. There needs to be more education and discussions on budgets and the actual pain points you're trying to resolve. The first one is an easier fix, because when we as vendors engage with the owners, we support them by providing them with access to the right data points, and we can conduct sessions in terms of the education needed. We try to make that journey as easy as possible for the mid-management to adopt that ERP system," said Kapoor.  
When asked what he believed was really driving manufacturers to shift their operations to the cloud, Kapoor said there were multiple factors at play.  
"The first element for me, is the digital experience itself. Today, our digital experience falls mainly towards retail, or e-commerce. However, most industrial companies in the current climate are now focused on the timely delivery of products. Previously, someone would order an automobile, and wait five months to get it, but in this new experience economy that we live in and that is underpinned by digital experiences, this is no longer tolerated and consumers want fast delivery," said Kapoor.  
He also added that manufacturers were being driven by the Amazon effect, and said manufacturers that aren't digital will simply not survive in the next digital decade.  
"Whilst manufacturers need to deliver fast, they also need to maximize profits in the same way. There is a big demand on manufacturers from customers to offer a personalised customer experience, irrespective of the product, and this is driven by the 'Amazon' effect. Now, all of this is made possible by moving to the cloud, because it provides a digital experience. However, if you're running a siloed factory without being connected to the internet in a full blown way, then you simply cannot provide this experience, and won't survive in the ultra-competitive digital economy that we live in," said Kapoor.  
According to Kapoor, one other key factor that is driving manufacturers shift to the cloud, is labour shortage and retention.  
"Labour shortage and retention is a huge issue, and the labour shortage globally is the highest it's been for 16 years. 3 out of 4 employers are all reporting difficulties in finding talent and retaining it. If you move your systems to the cloud then your heavy dependency on a large labour force to support the business is significantly reduced," said Kapoor.  
Another challenge has been around the stability of global supply chains, which we know were triggered by the pandemic, but Kapoor said the challenges around the supply chain are still unfolding.  
"Due to the issues with global supply chains, which are still unfolding, customers are now looking for near shore deployments, so they can avoid all the pitfalls, such as the barriers to entry by competition. However, as I said by moving to the cloud, the businesses have been able to decrease the time and expense it requires from their backend, and the heavy manufacturing operations on their IT departments. Businesses are now focusing towards dashboards, analytics and training, and it's clear to see that the issues around the supply chain globally have really pushed companies to move their systems to the cloud," said Kapoor.  
In terms of the value proposition of Epicor Kinetic, Kapoor said its ability to provide ROI was a key distinguishing factor for the company.  
"What is special about Epicor Kinetic, is the fact that it is purpose built, it's specific to industries such as manufacturing, we are fully available on the cloud, and we are easy to deploy. For me personally, and for Epicor as a whole, what we believe really distinguishes us from other ERPs, is undoubtedly the ROI that we provide," said Kapoor. 
Kapoor then provided 10 key points on the unique capabilities of Epicor Kinetic, but for the purpose of this article we have focused on three of them. He began by highlighting the agility and resilience provided by Epicor Kinetic.  
"What we provide at Epicor is agility and resilience when you deploy our technologies. Digital technologies help you identify challenges and opportunities, and our solutions come with full analytics, and the BI solutions that we have embedded into our solutions also gives users greater insights, and ultimately makes your business much more agile, which you need in a marketplace that can be so volatile," said Kapoor.  
Kapoor once again focused on the importance of ROI, and added that one of the main arguments for cloud computing is proven ROI.  
"Our upfront costs are low, and our subscription is very predictable, and customers know over the next 3-5 years of their journey how much it is going to cost them. We never enter into a discussion with a customer unless we are able to tell them where exactly their expenses are going to get lower, and where they will get benefits," said Kapoor.  
A recurring theme throughout this conversation has been the importance of delivering good experiences, and managing and delivering on customer expectations, again this is another key feature of Epicor Kinetic.  
"We are providing solutions that allow customers to anticipate, adjust, and adapt to what their customer needs and expectations are. Today, customers expect a seamless experience when engaging with any company. If you are on an Epicor solution deployed in the cloud, then you have the ability to change and convert quite rapidly with what exactly the customer needs and wants," said Kapoor.  
We concluded a fantastic exchange by touching on Epicor's new datacentre, which is primed to open in the UAE in the next few months. Kapoor said the time was now perfect to launch the datacentre, and said it showed their unwavering commitment to their customer base across the Middle East region.  
"We are really, really excited about the opening of our new datacentre in the UAE. In terms of why now, we believe that the timing is right on many fronts. Today, if you look at our entire customer base in the Middle East, 40% of them have already migrated to the cloud. In addition to this, 80% of all our new customer base are choosing to be deployed inthe cloud, or the SaaS model. In an effort to better serve these customers we have decided to open our UAE datacentre. This is our commitment to our customers, and we are giving them what they want. We know that customers are migrating to the cloud, and they have datacentres outside the region, but our attitude is, here you go, Epicor is investing for you, for your business, and we want to better serve you moving forward and that's why we're opening this datacentre," concluded Kapoor.