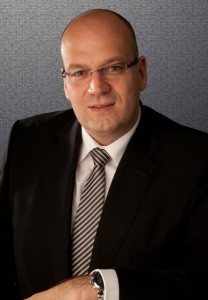 In order to strengthen the leadership team in fast-growing markets, Lenovo, the popular PC company announced today a series of managerial changes set to take effect from 1st October 2012.
As part of the announcement, the company said that Oliver Ebel will assume the role of Executive Director and GM for Lenovo in the MEA, moving from his current position as Executive Director and GM for Eastern Europe and Turkey. Oliver takes the reins from Jack Lee, who will relocate to Hong Kong and assume the role of Corporate VP and GM of Lenovo Hong Kong, Taiwan and Korea.
In his capacity as the new head Lenovo's MEA operations, Ebel will continue to pursue strong business growth in the region. He will oversee operations, strategy development, sales, marketing and relationship management with all stakeholders in the PC industry for Lenovo's commercial and consumer products, as well as services, the company said.
Reporting to Gianfranco Lanci, President EMEA and SVP Lenovo Group, Ebel brings a history of leadership success within the Lenovo family, having guided Lenovo's return to growth in EET and subsequently transformed it into one of the company's fastest growing markets.  Meanwhile, Lee will leverage his solid industry experience in the company's domestic market and continue his focus on steering the company toward continued growth and operational excellence in his new role as GM of Lenovo in Hong Kong, Taiwan and Korea (HTK), it was reported.
Lanci stated, "For three years, our global strategy has focused on protecting the areas where we are strong and attacking the places with greatest opportunity. Lenovo has achieved enormous momentum with eleven straight quarters as the fastest growing PC Company, and our rise to the number 2 position in worldwide PC sales is testimony to the leadership we have in place to bring this strategy to fruition. The Middle East and Africa business continues to be of significant importance during this extremely dynamic time in Lenovo's history and I believe the managerial moves that we announce today provide the strength of leadership in key markets to take us to number one."
During the past two years Lenovo has seen its Middle East and Africa business go from strength to strength, bolstered by the establishment of a high calibre and talented management team led by Jack Lee. Under his leadership, the business has achieved a number of successes, including a 70% annual uplift in the region's sales and a move up by two positions to number 4 in the regional PC rankings (according to IDC, Q2 ,published reports) in 2012.
Commenting on his appointment, Ebel said, "I am excited to be taking up this mantle at a time when the market is thriving for Lenovo, and to have the opportunity to further push our brand and technology forwards in this region."
Oliver has over 17 years of experience in the IT industry across sales and sales management positions, on the customer side as well as on the business partner side, and at IBM prior to formation of the Lenovo business. In Lenovo he has held various senior positions including; Director Relationship Sales in Germany and Austria, Director Public Sector for Western Europe, GM of Lenovo CEE and most recently Executive Director and GM in Eastern Europe and Turkey.