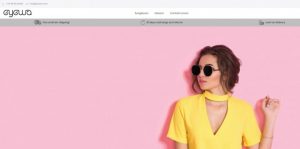 The online shopping portal for eyewear, eyewa, launches in the UAE and Saudi Arabia this month and is set to provide a fashion-focused experience for the region's stylists.
The e-tailer said that it is set to disrupt the sunglasses, eyeglasses and contact lenses shopping experience in the region, "with innovative technology, outstanding customer service and thousands of product offerings." eyewa streamlines the experience by providing an easy, affordable and trustworthy experience, the firm said.
The online platform will offer customers a wide variety of fashionable sunglasses, eyeglasses, corrective contact lenses and colored contact lenses. eyewa customers can browse through a varied selection of global brands including Ray-Ban, Oakley, Emporio Armani, Police, Prada, Marc Jacobs, Lacoste, Michael Kors, Carrera, Fendi and Chloe; with hundreds of new frames added each month, according to the company.
Founded by Anass Boumediene and Mehdi Oudghiri, eyewa aims to change the rules of the eyewear retail game by becoming the leading regional technology enabled specialist in the segment. The two co-founders said they are determined to offer customers an innovative and click away retail experience; with plans for expansion throughout the GCC by 2018.
The website provides fast delivery services (within 2-3 days) in the UAE and Saudi Arabia markets  As part of eyewa's brand promise to putting customer satisfaction at the forefront, customers are offered a 30-day money back guarantee for any product purchased, free of charge and with no questions asked.
Anass Boumediene, co-founder and co-CEO, eyewa, said, "We believe that eyewear is not just an accessory, but rather a defining part of our personality. Think about it, it's right there on our faces! No other accessory matters as much. The foundation of the company is about providing a fashion-focused experience to the customers in the region without breaking their wallets."
Mehdi Oudghiri,  co-founder and co-CEO, eyewa, "We felt the need to create a swipe away eyewear shopping solution for the Middle East. Most existing physical optical stores offer a sanitized medical experience for this fashion accessory. Our approach is different as we offer a curated assortment, up to date with the latest fashion trends. To top it of, we also offer more choice, better prices, and a more convenient way of shopping for eyewear."