Fit On Click, a wellness and fitness service provider in the UAE, has emerged as the Fastest Growing SME in a recent nationwide competition.
 The start-up, which began in 2015, registered a growth of about 300 per cent during the past twelve months to win the prestigious RAKEZ Business Excellence Award for 2017 that was given away by the Ras Al Khaimah Economic Zone (RAKEZ) and RAK Department of Economic Development (RAK DED). Entries for the award was open to all companies from across the UAE.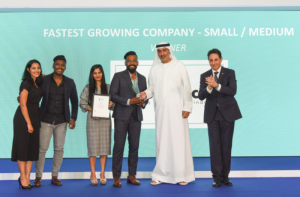 Fit On Click is a UAE-based start-up that provides both online and offline solutions catering to various wellness and fitness requirements among UAE residents and corporates. Ben Samuel, who is himself a fitness enthusiast, started the company after he found there were no services that had a quality listing of fitness centres and gym facilities in the UAE.
 "It has been a challenging yet amazing journey since then. We started off as team of two, my wife and I. Initially we personally visited each and every fitness centre asking them to list with us. Today we have more than 2000 plus units listed and have expanded to include various related services."
Fit On Click started off as a marketplace for fitness centres and gyms and went on to incorporate trainers on demand and has expanded their business offering to include a healthy food finder and facilitates fitness and sports programs and events for corporates.
In terms of turnover, the business grew from Dh300,000 to Dh1.2 million in a year. "We are expecting a hike of 3X in our turnover by the end of 2018 and have already achieved 30 per cent of our target," says Samuel.
 "Unlike a lot of other countries, UAE is far ahead in terms of creating opportunities for residents to follow a healthy lifestyle. It depends on how individuals utilise these facilities. Our aim at Fit On Click is to bridge the various gaps and better enable the residents to remain fit and follow a healthy lifestyle," he adds.
 By incorporating corporate wellness programs into their activity, Fit On Click has moved a step closer in ensuring that fitness is brought to your doorstep be it to your home or within your office and work space.
 "Our corporate programs have really gained momentum. We offer customised solutions to companies that are keen to facilitate better health and lifestyle to its employees," says Samuel.