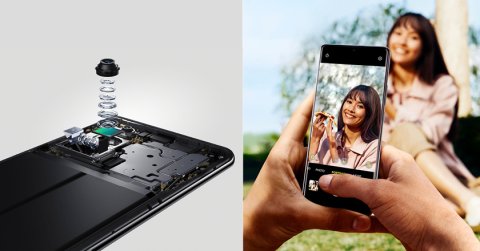 On the recently launched Reno10 Pro+ 5G, OPPO has created a professional-level portrait photography experience across every aspect of the imaging chain to set a new benchmark for professional portrait photography on a smartphone.
Smartphone brands including OPPO have been going all out to create camera systems capable of capturing clear, high-quality, and true-to-life images.
Setting a new standard for professional portrait photography on smartphone
The rapid increase in available computational power on smartphones in recent years has led many smartphone brands to introduce so-called image 'optimisation' or 'beautification' effects to create brighter, more eye-catching images, OPPO recognises that light and shadow play a key role in good photography by making portraits appear more three dimensional and lifelike.
While smartphone image processing algorithms can lower the barrier for good photography, over reliance on these algorithms can also destroy much of the natural information in the image. In order to create timeless masterpieces, OPPO aims to combine traditional photography knowledge with smart computational photography techniques to build an imaging system capable of reproducing the ultra-realistic interconnection between light and shadow, space, and true-to-life colours.
With a team of over 1,000 dedicated imaging specialists and an annual investment of approximately US$156 million, OPPO aims to empower users to shoot enduring and exquisite photographs on their mobile phones. Asides from its own internal efforts, OPPO also frequently collaborates with acclaimed photographers, lighting engineers, and post-production specialists to incorporate their insights and expertise on what defines good portrait photography into its own products to define its fundamental standard for excellent smartphone portrait photography: professional level images with clear details, natural colours, and ultra-realistic light and shadow effects.
End-to-end upgrades bring pro-level portrait photography to smartphone on the Reno10 Pro+ 5G
On the new Reno10 Pro+ 5G, OPPO has implemented end-to-end upgrades across the entire image experience, from shooting to image processing and display, to deliver SLR-standard portrait photography capabilities based on new breakthroughs in image clarity, light, shadow, and colour.
The smartphone introduces an independent, professional quality telephoto lens for the first time in Reno series to improve image clarity and quality from its foundation. It features a large 64MP, ½ inch sensor with greater colour sensitivity and a 3-times optical zoom, offering more freedom of composition and attention to both subject and background. Additionally, the Reno10 Pro+ 5G also includes a new optical quality 6-times zoom built on OPPO's In-sensor Zoom Technology for further magnification. On top of these features, the lens is coated with an ALD anti-reflective optical coating includes cutting-edge Prime floating OIS for improved image stabilisation.
While the camera design of the Reno10 Pro+ 5G emphasises capturing high quality images from the source, image processing still plays a key role in optimising the captured information. OPPO's new image processing architecture leverages the power of the Snapdragon 8+ Gen 1 Mobile Platform and utilises multi-frame synthesis. By dedicating such a huge amount of processing resources to this task, the Reno10 Pro+ 5G is able to perform multi-frame synthesis in the RAW domain, resulting in improved low light HDR photos, portrait mode, and high-resolution digital zoom. Through improvements in AI denoising, AI demosaicing, and deep pixel compositing, the Reno10 Pro+ 5G delivers new breakthroughs in image clarity, colour, and restores natural light and shadow in images, resulting in photos with realistic 3D details.
The Reno series' renowned Portrait Mode also returns to the Reno10 Pro+ 5G and has been updated with bokeh flare effect, adjustable aperture settings, and improved subject-background separation algorithms. Further to this, multi-semantic segmentation has been implemented to improve detection accuracy for repetitive textures and other scenes, and edge feathering algorithms are used to optimise the appearance of edges based on depth data.
As the last stage in both shooting and reviewing photos, the screen is in many ways just as important as all the other steps that come before it. So, to give the fantastic photos and videos shot on the Reno10 Pro+ 5G the stage they deserve, the smartphone features a 2772 × 1240 resolution Ultra-clear Display in the form of ProXDR Smart Display Control. This technology uses a high-precision image recognition algorithm to automatically detect light sources stored in the grayscale image data and locally adjust screen brightness, accordingly, resulting in up to 8-times higher dynamic range.
Putting professional masterpieces in the hands of everyone
As part of its ongoing commitment to creating a professional and inclusive portrait shooting experience on the Reno series, OPPO is introducing the Portrait Expert Project with the Reno10 series. This project draws on the expertise of professional portrait photographers and takes inspiration from their mastery of light and multi-cultural perspectives to continuously optimise the underlying portrait technologies of the Reno series. Through enhancements to subject recognition, facial features and skin tone protection, and background optimisation, OPPO empowers Reno users to capture fantastic portraits that combine a professional photographer's eye with their own styles and preferences.
Together with inputs from the Portrait Expert Group, OPPO is also seeking feedback from its global users through the new OPPO imagine IF Photography Project. Launched on April 17, the 2023 imagine IF Photography Awards encourages users to explore artistic expression through new imaging experiences and inspire each other to unleash the infinite possibilities of imaging.
By continuously enhancing its camera offerings and benchmarking against professional camera standards, OPPO continues to create the most professional imaging experience on a smartphone. On the latest Reno10 series, OPPO continues to narrow the gap between smartphone cameras and high-end DSLRs with end-to-end improvements that put professional masterpieces in the hands of everyone.