Anita Joseph caught up with Viswanath Pallasena, CEO of Redington Middle East and Africa, to hear the captivating story of the company's strategic transformation and unprecedented growth. In a candid conversation, he reveals how, with a finger on the market pulse and an innovation-centric, customer-first mindset, Redington MEA is helping businesses in the region shape their journey into the future.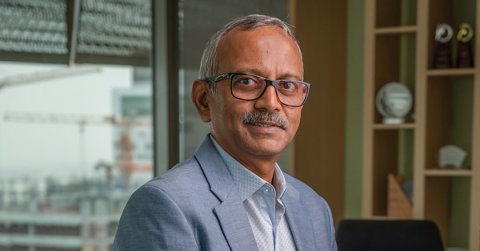 THE EVOLUTION
Businesses today are transitioning from traditional on-premise operations to cloud-based solutions as they strive to meet the growing needs of their customers. As this evolution gathers momentum, channel partners stand tall at the forefront of all the action, bridging the gap between end customers and cloud technologies. This journey toward cloud adoption presents both challenges and opportunities, and Redington continues to play a vital role in guiding customers through this change while successfully anticipating market trends.
Interestingly, businesses have stopped speculating whether to migrate or not, and are now focused on identifying workloads that should be moved to the cloud. Previously, customers were comfortable relying on channel partners for tasks like product purchases, installation and maintenance.  "The transition to the cloud has upset traditional paradigms and thrown up new considerations. It has now become important for customers to be clear about which of their applications are suitable for cloud migration and which ones should remain in their current environment. In this crucial decision-making process, the advisory services offered by channel partners have become indispensable. Recognising this need, partners are honing their skills in guiding customers throughout the transition and Redington is spearheading this trend," Pallasena said.
One aspect of cloud transition that demands careful attention is the commercial side of the equation. Traditionally, product sales followed a straightforward process of issuing invoices and collecting payments. However, in the modern consumption-based cloud model, pricing structures have become more complex. Channel partners must navigate platforms, connectivity needs and billing considerations, requiring a deeper level of engagement with customers. Redington stepped in to address these challenges by developing the CloudQuarks platform—an all-encompassing solution that integrates major hyperscalers, applications, cloud solution providers' businesses, and other essential components. Additionally, Redington continues to expand the platform by incorporating additional services that partners can resell. This holistic approach allows partners to establish direct connections with customers, facilitating ongoing consumption and transactions.
Redington recognises that supporting channel partners every step of the way is pivotal in ensuring a seamless and successful cloud transition for customers.
THE EVENT
Redington's groundbreaking event, Redington Re-Imagine 2023, took place in June in Dubai, highlighting the company's commitment to embracing new possibilities and redefining its role not only as a distributor, but also as a visionary channel ecosystem player and future-first technology company.
"The event was a testament to Redington's forward-thinking mindset and its dedication to building the capabilities of tomorrow. By assembling an impressive lineup of global speakers, the event stepped beyond the present and explored the future possibilities that lie ahead," Pallasena added.
Among the guests was eminent physicist, Dr. Michio Kaku, who captivated the audience with his insights into quantum computing and the age of quantum theory. Dr. Kaku's compelling presence throughout the day, engaging with partners, highlighted Redington's pledge to delivering a transformative experience. Redington also invited Dr. Zina Jarrahi Cinker, an R&D strategist and condensed matter physicist, who shared her perspectives on connectivity and frontier materials. This thought-provoking session shed light on the evolving nature of connectivity and its profound impact on industries and society. Redington's focus on highlighting these crucial aspects of technological advancements demonstrated the company's commitment to equipping partners for the future.
Understanding the needs and expectations of the customers of tomorrow is paramount for the survival of businesses. Recognising this, Redington invited renowned futurist Mike Walsh to share insights into the advent of one of today's most significant and pathbreaking technological inventions: Artificial Intelligence (AI). Walsh's session delved into the impact of AI on emerging job domains and valuable advice for businesses to adapt and thrive in an AI-driven world. Redington's dedication to providing partners with actionable guidance for the future consolidated its position as a trusted technology partner.
Beyond all the intellectual discourse and technological insights, Redington also curated a memorable experience for the event attendees.
It was the region's first mega conclave for the tech industry with over 600 channel partners from over 12 countries and 1200 unique participants including ISVs, startups, vendors and industry experts. Redington Re-Imagine 2023 was a resounding success by all accounts, positioning the company as a technology frontrunner and innovator. By bringing together distinguished speakers, cutting-edge technologies and industry stakeholders, Redington demonstrated its commitment to leading the way in the ever-evolving world of technology. This transformative event not only showcased the company's capabilities but also provided partners with invaluable insights into emerging trends and technologies. Redington's unwavering dedication to innovation and its role as an ecosystem player continues to drive the success of its partners and the entire technology ecosystem.
"The event had a profound impact on the leaders from the technology world with world renowned speakers talking about the future of technology and how as an ecosystem we can evolve to the next level. It was a one-of-a-kind event and had experiences ranging from the metaverse to powerful entertainment performances. The feedback we received was fantastic and for sure it has brought the entire ecosystem closer than ever before," the Redington MEA CEO added.
Redington also celebrated the achievements of its top partners across the region at Redington Re-Imagine Ecosystem Awards.
Highlights of Redington Re-Imagine 2023
Redington Re-Imagine 2023 featured technology experts and icons. It was a great place for the entire ecosystem, to connect, grow, and prepare for the future.
Michio Kaku, Dr. Zina Cinker and Mike Walsh shared insights into the world of the future, driven by technology
Adam Simon, Global MD of CONTEXT, revealed results of the survey, commissioned by Redington – 'Technology Innovation and Adoption' – that polled over 200 technology professionals
Redington leadership discussed the new Re-Imagined Redington and the way forward
Attendees were transported to the metaverse through an interactive VR game – The Infinite Loop
THE SURVEY
As Redington began to initiate conversations around the future of technology, it decided to commission a CONTEXT survey on the sidelines of the Redington Re-Imagine 2023 event, where over 200 partners across the Middle East and Africa opened up about their needs, challenges and growth trajectory. All mid-sized companies, they shared their journey and perspective on critical issues such as how training and learning are vital, how much of their money is being spent on redevelopment, how many of them are in the cloud business or at least moving towards the cloud, how many are worried about AI and what percentage of them think AI is going to make a difference to them in the future. In fact, the CONTEXT survey of MEA resellers showed how the IT channel ecosystem is clearly demonstrating its readiness for the next stage of digital transformation.
The survey aimed to identify three key factors that help resellers take advantage of opportunities at the Forum: Readiness, which intended to measure positive outlook, investments and a focus on the future, Skill Development, which evaluated the level of investment in training and developing proprietary intellectual property to gauge the development of local skills and talents and Strategic Thinking which examined long-term and short-term issues to determine the mindset of resellers.
Key indicators place MEA resellers in a similar place to their European counterparts – 80% of resellers have already sold cloud services, 65% for more than two years. 47% of those who have been selling for more than three years, are able to deploy more than 10 cloud services. Nevertheless only 13% of the resellers who have been selling cloud for less than three years offer more than 10 cloud services – it is vital to increase the number of cloud solutions offered in order to provide multi-vendor complex cloud solutions.
One notable finding was that some partners, particularly those with employee sizes ranging from zero to 25, were investing approximately 2% of their total turnover on training and redevelopment. This demonstrates the significance they place on certification and skill enhancement. Moreover, around 50% of respondents stated their involvement in the development of intellectual property, particularly software. Only 22% of participants indicated no engagement in the cloud business, implying that a significant majority, around 78%, are actively involved in the cloud business at varying levels.
Pallasena pointed out that Adam Simon, Managing Director of CONTEXT, played a significant role at the Redington Re-Imagine 2023 event. "During his benchmarking analysis of the EMEA reseller and as-a-service markets, he discovered that the level of advancement and investment in development was higher in the MEA region compared to the others. He also emphasised the significant presence of software development and intellectual property activities here. Additionally, he noted the increasing interest in AI among this region's partners, with the percentage rising from 9% to 18% over the past year, reflecting a doubling of interest. In contrast, the interest in AI among partners in other regions was around 40%," he added.
The survey also revealed that major retailers, in particular, appear to be well-prepared for the AI revolution and its future significance. This trend aligns with the technology-driven projects emerging from Dubai, the UAE Government, Saudi Arabia and other countries where substantial investments are being made.
Pallasena summed it up thus: "The CONTEXT prediction for the Middle East Channel is that B2B and B2C customers will be the drivers of green standards adoption and IT company employees will push for compliance. Vendors will drive new processes for circularity and recycling of products. Leading edge resellers will tap into this important wave of transformation.
These insights provide Redington a clear understanding of the needs and interests of its partners and serve as a guide for evaluating its current strategies. By aligning its initiatives with partner expectations, the company ensures that its approach resonates well and leads to meaningful collaborations and success stories."
DISTRIBUTION AND BEYOND
Redington is a well-established distributor with a broad range of products, cloud services and more. The company recently underwent a re-organisation to drive growth, and established different business groups. Its Value Business segment is now known as the Technology Solutions Group (TSG), emphasising its commitment to providing innovative solutions. Recognising the importance of cloud services, the company also formed the Cloud Solutions Group (CSG) and a Services Group to support it. Meanwhile, the Endpoint Solutions Group (ESG) focuses on how technology is consumed by end-users, while the Mobility Solutions Group (MSG) caters to the needs of the mobility sector.
In addition, Redington has integrated services and consulting through Citrus, its subsidiary company. Citrus offers Migration Advisory Services and cutting-edge technology solutions to customers, guiding them through their digital transformation journey. Furthermore, its insurance systems and logistics arm provide lifecycle services, ensuring a seamless experience for partners. Redington's logistics services organisation, ProConnect, assists customers by offering warehousing, freight forwarding, and last-minute deliveries, regardless of whether they purchase from the company or from other vendors.
The company also provides a wide range of IT services and solutions that cater to dynamic business needs and facilitate effortless IT integration. Redington's Ensure Services team specializes in optimising customer operations and providing customised solutions in partnership with over 36 leading technology brands, ensuring seamless IT service experience.
"By aligning the company's business structure and offerings with evolving market demands, Redington is poised to embrace the future and provide comprehensive technology solutions to customers," Pallasena noted.
CREATING VALUE
It is important for the partner ecosystem to align with the changing needs of its customers. Understanding this, Redington strives to continuously enhance its efficiency and stay relevant. In fact, as part of its growth strategy, the company has formed customer-centric organisations with cluster heads overseeing them. Under the account management principle, it has established different routes to market, such as the commercial route, mobility route, consumer route and volume route. These measures ensure that their partners can effectively cater to market demands and deliver value to their customers.
Redington has also developed two interfaces for its partners: The Sales Interface and Redington Online. The Sales Interface facilitates face-to-face interactions. Redington Online is a digital platform that serves as a complete digital twin of Redington. In fact, the company has successfully onboarded partners from nine countries onto this platform. It offers a seamless experience, allowing partners to access information about Redington's products, latest deals, and exclusive offers. The platform also lets partners place orders online and track their order history and analytics. This convenience empowers them to conduct business with the company anytime, anywhere. For example, they can place orders while on holiday or even in the middle of the night, without having to contact a salesperson directly. They can request customised deals, and the backend engine collaborates with the sales team to generate the right pricing, which is then made available on the online platform for easy ordering. In short, customers find it simpler and easier to engage with Redington and conduct business online.
In Pallasena's words: "With business models evolving beyond traditional capital expenditure (CAPEX) transactions and shifting toward operational expenditure (OPEX) models, Redington is keeping pace with these changes and offering various business models, including its consumption-based cloud infrastructure. This allows partners to align their business strategies with the changing market landscape."
In short, the company's focus on the partner ecosystem includes enhancing routes to market, providing efficient interfaces for sales and online engagement and embracing evolving business models. These initiatives allow it to add value to partners and facilitate seamless collaboration in the technology market.
How Redington Organised for Growth
Redington Middle East and Africa has restructured its business units to four distinct divisions –
Technology Solutions Group (TSG): TSG caters to holistic cybersecurity solutions and services and houses cutting-edge global brands. The diverse portfolio encompasses enterprise infrastructure, software, and security solutions. By collaborating with ISVs, system integrators, and solution providers, the business unit delivers tailored solutions that empower businesses to overcome their unique challenges.
Cloud Solutions Group (CSG): CSG includes comprehensive cloud offerings and services and proprietary platforms, helping to make channel partners' operations even more efficient. The portfolio of services caters to customers' unique needs, supporting their digital transformation journey and fostering scalability and growth
Endpoint Solutions Group (ESG): ESG delivers world-class brands to the market, from extensive range of desktops and tablet PCs, printers, supplies to gaming products, and more. The business unit covers major consumer categories and leverages the company's diverse partnerships to reach stakeholders through an online, offline, and omni channel approach.
Mobility Solutions Group (MSG): MSG offers an impressive array of world-class brands and products that encompass smartphones wearables, and accessories. Its comprehensive suite of services including credit and finance, pre-sales and post-sales support, demand generation, consulting, and training ensures that channel partners thrive in today's competitive landscape
FUTURE FORWARD
The fact that Redington has re-organised itself for growth, only serves to further reinforce its identity as a future-first technology company. Distinct, purpose-based business groups like the Technology Solutions Group, Cloud Solutions Group, Endpoint Solutions Group, and Mobility Solutions Group, make it better positioned to bring the best technology and solutions to the market. This ensures that it has access to top-notch technology sourcing and can offer the best products to its customers.
In addition to the business groups, Redington is also committed to supporting the ecosystem of Independent Software Vendors (ISVs). The company onboarded more than 120 ISVs onto its cloud platform, allowing them to sell their software solutions to Redington's partners. This enables the ISVs to leverage Redington's technology and cloud services, while partners benefit from a wider range of offerings. This approach makes Redington an ecosystem aggregator, bringing together various stakeholders and offering the right business models to customers.
Plaudits are no stranger to Redington. Last year, the company achieved a significant turnover milestone by crossing $10 billion. As a company with a strong presence in emerging markets, including India and Singapore, it is listed on the Indian stock exchange. A recent report by Canalys, the global research firm, recognised Redington as one of the top 10 distributors globally, further cementing its position in the industry. And with a remarkable year-on-year growth of over 25%, it is well poised to continue its upward trajectory and break into the top five distributors in the near future.