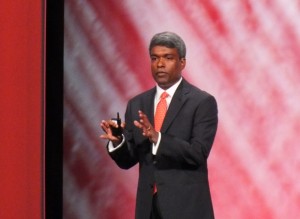 Oracle announced it is expanding its Oracle Cloud services portfolio, during a talk at the OpenWorld conference in San Francisco this week.
Thomas Kurian, Executive Vice President, Oracle Product Development, delivered the talk, and claimed the portfolio delivers the industry's broadest and most advanced cloud strategy.
The expansion includes new Platform Services, Application Services, and Social Services, all available on a subscription basis.
"The breadth of opportunities available with Oracle Cloud already exceeds anything else available in the industry, and with the introduction of these new services, Oracle continues to innovate, shape the market and define the future of cloud-based services," said said Abhay Parasnis, Senior Vice President of development, Oracle.
Oracle now has more than 10,000 cloud customers worldwide, as well as more than 25 million daily users. "Oracle Cloud delivers instant value and productivity for business users and developers through functionality rich, integrated, secure enterprise cloud services," the company said.
Oracle has made available a preview of seven new cloud services, including: the Oracle planning and budgeting service, Oracle financial reporting service, Oracle data and insight service, Oracle social sites service, Oracle developer service, Oracle storage service, and Oracle messaging service.
These new services join a list of already strong cloud applications available from Oracle, including the Oracle database and Java cloud services. This enables customers to access industry leading database and Java EE application servers in the cloud.
"Siemens Logistics IT is excited about the capabilities that the Oracle Cloud will offer, the provisioning of a robust Java EE container combined with Oracle database's proven technology in a public cloud," said Ekkehard Janas, Chief Architect, Siemens Logistics IT.