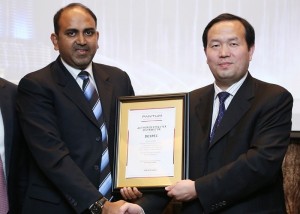 Chinese printer manufacturer Pantum has launched in the Middle East and Africa, having signed a distribution deal with Despec, which will help Pantum pursue its "aggressive" growth plans across the region.
The manufacturer is the first laser printer brand created and fully developed in China using Seine Technology. Pantum claimed that this technology helps it to offer solid technical strength, lower-cost full industrial chains and professional global systems.
Pantum eventually wants to become the world's leading printing products and services provider, it said. As part of this plan, it wants to be among the top three printer brands in the region and one of the top five globally by 2015.
"Our success is international markets in a short time gives us a lot of confidence for this market," said Jackson Wang, President of Pantum, who added that his firm's technological prowess will be the driving force behind its growth.
"Our strength in product innovation and R&D provides us the edge to succeed in highly competitive markets," he said. "I am proud to announce that we have fully mastered the core technologies of laser printer R&D, as well as manufacturing, and have become an international laser printer brand that covers a dozen models of mono laser printers and MFPs (medium-format printers)."
Upon its Middle East launch, Pantum compared itself to the likes of Huawei, HTC and Lenovo, which, Pantum said, offer reliable quality, durable performance and low maintenance costs. They also aspire to be the number-one companies within their fields, Pantum said.
Indeed, the printer manufacturer has plenty in common with Lenovo, given one of the PC maker's sister companies, Legend Capital, also has a stake in Seine.
"With high-quality laser printing with lower paper jams, combined with competitive pricing, our reliable printer will be popular in the MEA market," said Robert Liang, Sales Director MEA, Pantum.
Despec, meanwhile, asserted the quality of its new partner's products, highlighting awards that its products have achieved.
"We have conviction in Pantum's printers, which recently earned an award in the Winter 2013 Buyers Laboratory Pick awards, thus proving their quality," said Jaison Korath, CEO, Despec. "We look forward to working with Pantum, and seeing its progress in the regional printing maket."