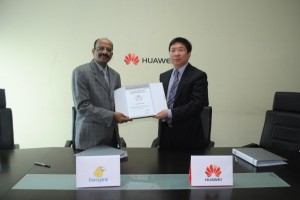 Huawei announced on Tuesday that it has added Qatar-based distributor Peregrine to its authorised partner network in the Middle East.
As part of the gold-level partnership, Peregrine will provide Huawei Enterprise Unified Communication and Collaboration products and solutions, Huawei said. Specifically, the distributor will handle IP telephony, call centres and video conferencing.
And given Peregine's expertise in oil and gas, the partnership will also address security concerns for the oil and gas sectors in Qatar, Huawei said, adding that security investment in the emirate is "top of the list" for enterprises.
Huawei said that security is "at the heart" of its Enterprise customer offering. It was recently given Frost & Sullivan's 2012 Product Innovation Award for the Middle East Network Security Market. And the firm's anti-DDoS enterprise solution, along with others, will be made available to Qatari customers through Peregrine.
"The pace of infrastructure developments we are witnessing in Qatar has driven strong demand for cutting-edge ICT solutions to meet and surpass global standards," said Biswas Odassery, Managing Director, Peregrine. "Security is a vital concern, and Huawei enterprise solutions will provide our customers with the most advanced security tools in the market."
Peregrine's relationship with Qatar's hospitality sector will also bolster Huawei's standing in the country.
"Peregrine has a strong focus on the hospitality sector, which is set to boom as we count down to the 2022 FIFA World Cup," said Su Bao Qiang, General Manager, Huawei Enterprise, Qatar. "With the Qatar government planning to spend $65 billion in infrastructure investment, tourism in the region continues to rise."
The partnership with Peregrine comes as part of Huawei's Channel Partner Programme, which the firm claims is an integral part of its growth strategy in the Middle East. Peregrine is the first partner to join the community in 2013.