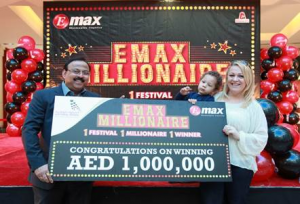 Andrea Anter, a Romanian national living in Abu Dhabi, recently won Dh1 million through Emax's "Emax Millionaire" promotion during this year's Dubai Shopping Festival.
The promotion saw any customer who spent more than Dh499 given a raffle coupon, entering them into a draw for the large prize.
Anter, a housewife, bought a Samsung Galaxy Tab 10.1 at Emax's store in Hamdan Bin Mohammed Street, Abu Dhabi, and was given a coupon to fill out. Shortly after, she had entered the draw, perhaps without realising that she would actually win the grand prize.
"I consider myself to be really fortunate," she said. "I plan to spend this money towards the future of my family and children.
Anter also said that she would donate part of the money to charity, particularly in her home country.