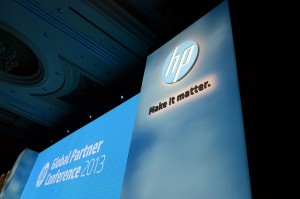 HP today announced major innovations that strengthen its HP Converged Infrastructure portfolio.
At its yearly Global Partner Conference in Las Vegas, HP unveiled a new HP BladeSystem, HP Converged Storage and HP Networking solutions, as well as other HP services that aim to accelerate return on IT investment and enable customers to refocus resources from operations to innovation.
The announcements, made early in the day to crowd of worldwide press, were described as evidence that shows HP is focused on its converged infrastructure portfolio, a concept which to claims to have coined itself back in 2008.
"We're working hard on developing this area for smaller and medium sized businesses but with all the benefits and consistency of that which we offer larger enterprises," said Lynn Anderson, Senior Vice President Communications, HP.
"Our converged infrastructure portfolio has grown 38% year on year, that's just staggering."
The HP Converged Infrastructure portfolio aims to address growing challenges in a time HP describes as 'a tectonic shift in IT'.
The new solutions include HP StoreSystem and HP StoreVirtual – solutions which HP claims can offer you zero downtime when upgrading from legacy systems, double your efficiency and is said to be 200 times fastest than its competition when it comes to data recovery.
"We're on a journey to a hybrid environment, and this is not going to happen overnight. Customers are under heavy pressure to show return on investment and productivity. We're here to address that."
With that, HP announced two more new services; Proactive Insight Services and Mobile Connectivity Services.
The mobile services are aimed at optimising BYOD infrastructure, lowering downtime and leveraging entire HP cloud-based services.
"HP BladeSystem is a $37bn opportunity it's the best solution bar none."
"It's a very exciting time for our partners. Our channel partners are very important to our storage portfolio. HP converged storage is an $18bn opportunity. The new storage systems are tuned to our channel programme, focused on SMEs with a platform which is rapidly deployable. We've taken a lot of effort to reduce the effort it takes to sell and deploy these products by 90%."
HP claims that the innovations are totally unique and that competitors aren't anywhere near to being able to offer what it is offering. In the last quarter, Silicon Valley results show HP grew more than major technology giants like Apple and Google.
Moreover, HP has already deployed a staggering 150 thousand storage solutions.
HP Converged Infrastructure offers customers:
 An open, standards-based, heterogeneous approach that integrates servers, storage, networking and management software.
 Proven experience of implementing Converged Infrastructure solutions for customers around the world—as well as close collaboration with 4,500 HP AllianceOne members and partners who develop complete solutions built on HP Converged Infrastructure.
 Comprehensive consulting and support services by HP and certified partners that simplify IT management, improve return on investment by optimising IT investments, and ensure a high-quality customer experience.