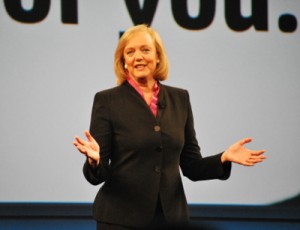 Meg Whitman, CEO and President of HP, walked out on stage today at HP's Global Partner Conference in Las Vegas to a huge roar from over two thousand global partners and boldly stated that HP means business.
In a short and concise keynote speech, Whitman thanked all the partners for their support, quashed rumours of financial instability and made a war cry for the future of its enterprise business.
Whitman has had a difficult time at HP since joining the company but claims it's now in a state of turnaround which is strong, yet reliant on its partners and distributors across the globe.
"I came here to fix the foundation of this company and together we can get HP back to where we all want it," she said.
"We're on a journey, I'm here for the long haul, not to deliver a short term fix."
Whitman claims that talk of the company struggling in the enterprise sector is ridiculous as it saw a revenue last year of $120 billion and was ranked in the top ten largest businesses in America.
"When you read the papers you might question our financial capabilities. Let me tell you this, a company with a $10.6 billion cash flow is a force to be reckoned with."
But Whitman claims that perhaps the company has been rather difficult to work with in the past. She noted that all partner feedback had been taken on board and the company has worked hard to fix its issues and make itself far easier to work with.
The main themes for the GPC were laid out in three words; simplify, profit and innovation. HP claims that it wasn't an easy company to work with but its made strong moves to solve the issue, making products less complex, offering more ground support and continuing to innovate products.
"Innovation is alive and well at HP, but perhaps we haven't made that clear enough recently," she said.
"We're going through a shift in IT, a new era and new style of IT and we're very excited about it. HP is back innovating printing products, back innovating enterprise solutions which can help grow and evolve your business. We evolve so that you can evolve."
Whitman claims this tectonic shift that the industry is facing only happens every 10 to 15 years but that the opportunities for the company and its partners to be successful going forward are great.
A positive CEO was handed a great reception as she stated HP means business.
"We measure our success on your success. We're here now with one simple message – we're about leadership, focus, execution and great products."
Joe Lipscombe is reporting live from HP GPC in Las Vegas.