The video footage of a fatal collision between an Uber self-driving vehicle and a pedestrian has been released by the Arizona Police on Wednesday, as investigators probe the accident that has put new focus on the safety of autonomous vehicles.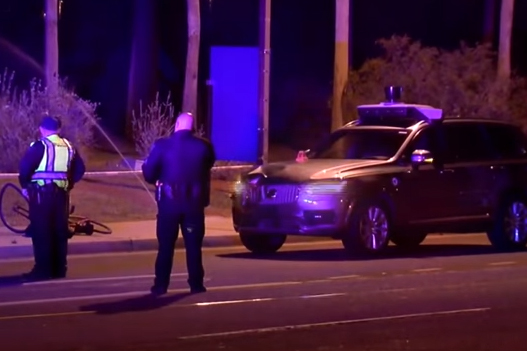 The video, according to Reuters, taken from inside the Volvo XC90 sport utility vehicle that Uber has used for testing, shows the vehicle driving along a dark road when an image of a woman walking a bicycle across the road suddenly appears in the headlights.
The woman, Elaine Herzberg, 49, later died from her injuries.
According to the report, the Police have also released few details about the accident that occurred on Sunday night in Tempe, Arizona, a suburb of Phoenix, while the SUV was driving in autonomous mode.
Uber suspended its self-driving testing in North America after the incident and federal safety regulators are conducting their own probe.
The video shows the vehicle traveling in the right-hand lane of a divided four-lane roadway. The vehicle's headlights illuminate a woman directly in front of it who is crossing the SUV's lane with her bike. The woman appears to be jaywalking as she is not in a crosswalk, said the Reuters report.
A photo released by safety regulators on Tuesday showed that the impact occurred on the right side of the vehicle.
The footage also shows a view of the vehicle's interior and the driver at the wheel. The driver appears to be looking down, and not at the road, for two periods of about five seconds each. Just before the video stops, the driver looks upward toward the road and suddenly looks shocked.
"The video is disturbing and heartbreaking to watch, and our thoughts continue to be with Elaine's loved ones," Uber said in a statement. "Our cars remain grounded, and we're assisting local, state and federal authorities in any way we can."
The video is likely to be a key part of investigations of Uber's self-driving car technology and whether it was ready for testing on public roads.
Fall-out from the accident could stall the development and testing of self-driving vehicles, which are designed to perform far better than human drivers and sharply reduce the number of motor vehicle fatalities that occur each year.