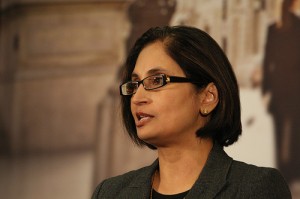 The post-PC era is already here and changing the way enterprises do business, according to Padmasree Warrior, CTO and GM of enterprise business at Cisco.
Warrior was speaking at Interop 2012 in Las Vegas today and discussed how trends such as cloud, mobility and collaboration were impacting organisations.
"It's not that the PC will go away – it will still have a strong role to play in how we approach an application and consume applications. However, it's already been joined by about five billion mobile devices," Warrior said.
"It's not just a device that's changing in this post-PC era – the application stack is also changing where traditional business applications like email are now being blended with social applications. Back in the day we were used to a world where a PC image was provisioned and provided by IT. That model will change in the future where we will perhaps go to an app store model on the device that we have," she added.
Warrior referred to a 'new enterprise' driven by issues like bring your own device (BYOD) and social media. However, she said mobility is more than just BYOD.
"It also means application mobility; the requirement that people have to carry applications that are strictly available to them in the office back into anytime, anywhere, which is driving the virtualised client movement," she said.
"At the same time cloud is changing how applications and services are deployed to more of a software-as-a-service component. That has changed the application and service landscape, and the infrastructure deployment models are changing because of virtualisation," she added.
Key area of focus for Cisco going forward are collaboration and video, which Warrior said is reflected in the fact that the majority of mobile data traffic will be video by 2015.
"At the top of this new enterprise is collaboration and the demand for immersive video, which drives productivity for organisations. When CEOs look for business growth and agility, they are looking to IT to provide that and to increase organisation productivity, which is driving collaboration," she said.
"Things like telepresence, for example, improve the bottom line for an organisation because it reduces travel time and costs. Collaboration also provides a different level of productivity by bringing teams together to work on and roll out solutions faster," she added.
Warrior also argued that the 'Internet of Things', which many thought leaders are predicting the emergence of in the coming years, is already here.
"Some people think this is very far away but if you look at some of the changes happening in the industry, I would argue that the 'Internet of Things' is already happening," she said.
"The demand for more mobility, the emergence of new protocols, the drive towards creating new kinds of architectures, the emergence of sensor networks driving things like smart grid, and other applications where the electric grid is actually going to be depending on IT technologies and IT protocols to make it more efficient," she added.
CNME sub-editor Ben Rossi is reporting live from Interop 2012 in Las Vegas this week. You can follow live tweets at @computernewsme and #Interop.