In a superb op-ed, Fred Lherault, CTO EMEA and Emerging Markets at Pure Storage, passionately makes the case for why green storage can serve as the cornerstone for a more sustainable and cost-efficient data centre as countries scramble to meet net-zero commitments.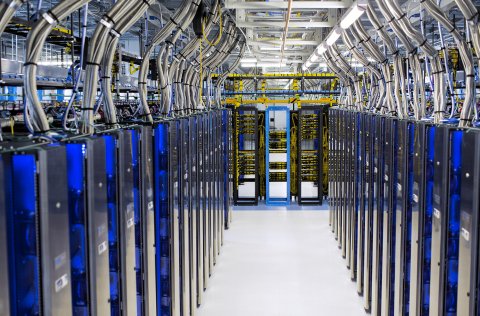 The Middle East and Africa (MEA) region has become one of the brightest zones on the global digitisation heat map.
The United Arab Emirates (UAE) government has invested in boosting global competitiveness through the digital economy with a strategy to have it contribute 20% of gross non-oil GDP in the coming years.
Digital technology is seen as the answer to many societal issues — from commercial success and economic growth to the trickier aspects of delivering on net-zero commitments. When it comes to the latter, the region is in the global public eye — COP27 was held in Egypt and COP28 will come to the UAE this November.
This juncture is the perfect time to discuss data centres and their environmental impact. The UAE is leading the charge on data centre expansion, with hyperscale providers like Microsoft and AWS already staking market claims here.
While admittedly, data centres are vital engines of economic growth, when it comes to sustainability, they can leave much to be desired. Power consumption in a data centre can often account for more than half of total operating costs.
They also have a significant carbon footprint (global estimates are 3% of energy consumption and 2% of carbon emissions, on a par with commercial aviation). However, there are technology choices which significantly reduce energy consumption and make a positive impact on the sustainability of data centres.
As a digitisation leader and host of two climate conferences in as many years, the region is making strides to address this issue. Many governments and private enterprises are looking to make data centres cleaner and greener.
The MEA green data centre market already constitutes an estimated 10% of the region's overall market, with colocation operators showing their initiative by investing in efficiency-enhancing programs as part of their own sustainability goals.
Each has realised that more sustainable data centres can benefit the bottom line. This makes green technology — and storage in particular — a key consideration when building these data centres.
Modern flash storage: Three green advantages that can save your budget
A major drawback of HDDs is their poor storage density compared to SSDs. Flash offers much higher capacity per drive, with drives of almost 50TB offered by some vendors, which will only rise in the coming years, compared to spinning disk's 20-something TB.
In addition, a spinning disk — with its moving parts — draws far more power than flash. HDDs draw several watts during reads and writes, and a similar amount when idle as the disks remain spinning and available.
Flash's working power draw is similar but mere milliwatts when idle. Additionally, SSDs are significantly better at random access performance — a key requirement for many production applications — than HDDs and therefore require a lot less components to power data hungry applications.
The next green saving comes from the emergence of modular storage hardware upgrades. It used to be that when you needed more capacity or controller processing power there was little choice except to replace the entire array.
Now, some vendors can swap out and upgrade individual components non-disruptively, even across generations. Forklift upgrades are universally expensive, wasteful and disruptive for the business but they can be a thing of the past if you choose the right vendor.
Lastly, the actual consumption model of storage procurement has been disrupted in recent years by the introduction of Storage as-a-Service (STaaS).
These offerings can help energy efficiency and combat e-waste, including the ability to flex up and down as required, all based on constant software monitoring of your storage estate without having to deploy hardware upfront for the next 3-5 years, which helps reduce the electricity bills by only powering what is required in the short term.
However, it's important that the STaaS offering comes with a Service Level Agreement (SLA). Without monitoring and an obligation to deliver what has been agreed, there is no real service. This means, for example, that if the agreed performance and capacity are jeopardised, the provider must resolve this proactively.
All of these advantages make the data centre more sustainable and can help both your bottom line and the environment.
Flash as a green solution: what to look out for
Flash media in storage products should be table stakes, but be sure to look into the details of flash storage offered. While the flash media may be the same for different vendors, storage vendors differentiate themselves by engineering their own data drives and controller software to make flash devices denser and more efficient, to bring greater reliability and longer lifecycles.
Data reduction can be built into the storage system to bring further density improvements.
Meanwhile, upgrading individual components brings the ability to scale up capacity and boost performance independently and avoid wasting processing or storage resources.
If a vendor offers to upgrade part of the system over several years beyond the traditional refresh cycle, then all the better as it gives an increased lease of life to storage systems and reduces e-waste.