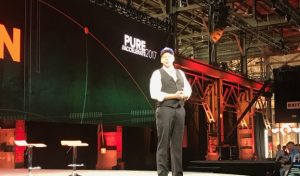 Pure Storage has announced its premier all-flash data platform for the cloud era at its second annual customer and partner event, Pure Accelerate 2017, taking place in San Francisco.
The 100-percent channel-driven firm said its new data platform enables customers to run operations with cloud agility, improve the economics of data analytics at high velocity and scale, and derive new insights to deliver data-driven results.
"Modern organisations require a data platform that enables them to build a new classof applications, to extract new insights from data and to do so in real-time," said Scott Dietzen, CEO, Pure Storage. "With an infrastructure in place that supports mission-critical analytics at real-time speed, organisations can increase their pace of innovation, improve time to market and ultimately deliver better results for customers."
The two-day event will showcase the ways in which the eight-year old enterprise data flash storage vendor enables customer innovation and business transformation through a host of comprehensive new hardware and software updates.
Traditionally, organisations have had to choose between the highest reliability (Tier 1 disk arrays) and storage purpose-built for the cloud era (modern all-flash arrays). With the newly introduced Purity//FA 5.0 software, the vendor seeks to end the compromise for customers.
The signature feature in Purity//FA 5.0 is ActiveCluster, a true active/active metro stretch cluster solution. Purity ActiveCluster extends availability to an unprecedented level, and provides business continuity across the data centre or metro region. Application workloads on clustered Oracle, SQL Server, SAP, VMware Metro Storage Cluster (vMSC) or Hyper-V continue to run transparently and effortlessly, even if an unexpected issue causes the array, network or data centre to fail. According to the company, Pure Storage FlashArray offers 99.9999 percent availability, now proven over two years, inclusive of maintenance and generational upgrades. Organisations can now leverage best-in-class reliability and sophisticated enterprise replication in a purpose-built all-flash array, rich with data efficiency technologies, flash optimisation and cloud integration.
The Big Data movement has helped organisations centralise data, but Big Data has historically meant slow data. Pure's FlashBlade system makes Big Data into fast data, and unlocks iterative real-time analytics, advanced AI and machine learning (ML), and rich simulation for data of any size. And now with a fast object interface, tomorrow's web-scale applications can be big, fast and intelligent, too.
Cloud is everywhere – in core data centres, and in edge data centres where data volume and latency necessitate local processing. It's also stretched between multi-cloud IaaS and SaaS providers. No matter what cloud an organisation chooses or where they choose to run it, Pure's data platform helps simplify storage in multi-cloud environments with new advances that deliver the simplest cloud on every platform: Support for VMware VVOLs, Microsoft ODX, Docker Persistent Containers, native data protection integration with public cloud providers, and pre-validated FlashStack solutions to speed the time to cloud.
Pure1 META, is Pure Storage's Artificial Intelligence (AI) platform for delivering on the vision of self-driving storage. Pure1 META delivers global predictive intelligence by collecting and analysing over 1 trillion array telemetry data points per day and enables effortless management, analytics and support. Pure1 META represents a major breakthrough in enterprise artificial intelligence and machine learning. Through the new Workload DNA generated by Pure1 META, the firm said that the customers will be able to predict both capacity and performance and get intelligent advice on workload deployment, interaction and optimisation.