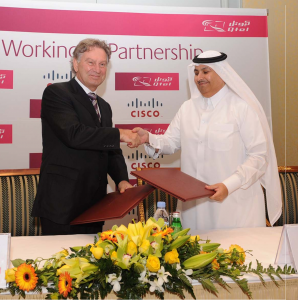 Qtel and Cisco have signed a memorandum of understanding (MOU) that will see the companies collaborate on a range of new services for business customers and consumers across Qatar.
The MOU aligns the Cisco Smart+Connected Communities vision with Qatar Telecom's expertise in the telecommunications sector to develop and implement comprehensive network and communications solutions.
It will explore opportunities that will allow corporate customers to work with Qtel and Cisco to deploy a range of wireline, mobile, managed services, virtual networks and data centre solutions. The companies have also agreed to pursue a range of solutions aimed at some of Qatar's most dynamic and strategically-important industries.
The signing ceremony was held at Qtel's headquarters in Doha and was attended by Sheikh Saud Bin Nasser Al Thani, CEO at Qtel, Eng. Khalid Abdulla Al-Mansouri, chief new business officer at Qtel, Wim Elfrink, EVP, emerging solutions and chief globalisation officer at Cisco, and Anil Menon, SVP, S+CC and deputy chief globalisation officer at Cisco, along with other senior company representatives.
Both companies will explore opportunities to bring the latest cutting edge technology; this is aligned to Qatar's 2030 Vision of working towards a knowledge based society and preparing for the World Cup 2022.
"Qtel has a bold strategy for ensuring that we hold a leadership position in the delivery of new innovations for our customers, and strategic partnerships have a clear role to play in ensuring we achieve our objectives," said Al Thani.
"Working with Cisco, which is a recognised global leader, will enable us to deliver comprehensive solutions for all of Qatar's leading companies," he added.
Both companies also said they see strong opportunities in the oil and gas sector, as Qatar's status as a world leader in the liquid natural gas market drives investment and new development.
Other industries targeted within the framework of the new MOU include sport, hospitality, health, education, retail, government and transportation – all set to be major growth areas in the coming years.
"As cities continue to grow, the challenge continues to be in making these cities smarter. More than ever there is a need for innovation to enable economic, social and environmental sustainability for city development and transformation. Cisco's Smart+ Connected Communities platform is increasingly being deployed globally to create smarter, greener and more secure communities for citizens of the future," said Elfrink.
"Citizens are looking to consume smart services enabled by intelligent networks. Progressive companies such as Qtel are leading the way in deploying these smart services as their strategic differentiator in growing digitally enabled cities," he added.