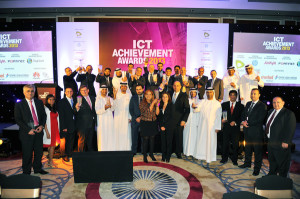 The Middle East's technology leaders were celebrated last night at a glittering ceremony, the CNME ICT Achievement Awards, held at the Emirates Towers Godolphin Ballroom.
The event, now a main fixture on the region's technology calendar, was in its fourth edition, and as usual, it celebrated the best and the brightest deployments of technology over the past year. Winners for the evening were picked by an expert panel of judges.
The ceremony started out with the vendor awards, which saw firms such as SAP, EMC and Fortinet take to the stage for a slice of glory. Meanwhille, Brocade saw success as the hardware vendor of the year, and Injazat Data Systems picked up the managed services provider of the year award. Alrowad IT Solutions were given the award for systems integrator of the year.
After a short break, the ceremony continued on to cover what everyone had really been waiting for – the end-user awards. The aim of the awards is to celebrate the regional CIOs and IT teams that have pushed the boundaries of technological innovation, creating real impact on their businesses' bottom lines, and greatly improving customer experience.
Such organisations as Abu Dhabi Municipality (government deployment of the year), Jumeirah Group (hospitality and tourism project of the year) and Zulekha Hospital (healthcare deployment of the year) picked up awards throughout the night. Other winners included Aldar Properties (construction and real estate deployment of the year), the Education Administration at Abu Dhabi Police (education deployment of the year), and Emirates Islamic Bank, which picked up the BFSI deployment of the year award.
As the winners were called out, they were greeted with rapturous applause. And rightly so – the deployments this year showed wonderful uses of technology in business. And after a long first day at GITEX, it was only right that everyone let their hair down a little to congratulate themselves.
LIST OF WINNERS:
Hardware vendor of the year: Brocade
Software vendor of the year: SAP
Security solutions provider of the year: Fortinet
Storage solutions provider of the year: EMC
Managed services provider of the year: Injazat Data Systems
Systems integrator of the year: ALROWAD IT Solutions
Government deployment of the year: Abu Dhabi Municipality
Hospitality and tourism project of the year: Jumeirah Group
Healthcare deployment of the year: Zulekha Hospital
Construction and real estate deployment of the year: Aldar Properties
Education deployment of the year: Education Administration, Abu Dhabi Police
BFSI deployment of the year: Emirates Islamic Bank
Energy sector deployment of the year: ENOC
Telecommunications deployment of the year: VIVA Kuwait
Retail deployment of the year: KOJ Group
CIO of the Year: Anwar Abdulla Almulla
Future CIO of the Year: Zubair Ahmed
IT team of the year: Aluminium Bahrain
Editor's choice – Enterprise architecture: DP World
Editor's choice – Cloud computing: EFS Facilities Services
Editor's choice – Mobility: Emirates Group
Editor's choice – Big Data: Gulf Air